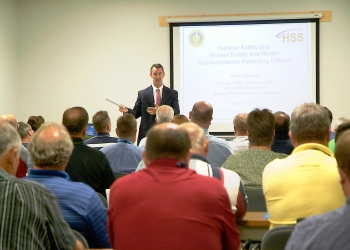 Kevin Dressman, director of the DOE Office of Worker Safety and Health Enforcement, addresses LATA Kentucky employees during a training session. The June regulatory assistance review was aimed at ensuring worker safety.
PADUCAH, Ky. – DOE Office of Health, Safety and Security headquarters representatives recently spent three days at the Paducah site helping EM cleanup contractor LATA Kentucky better identify and correct issues before they result in worker illness or injury.
"It supports our mutual bottom line of ensuring that workers go home in the same condition they arrive in that day," said Kevin Dressman, director of the Office of Worker Safety and Health Enforcement, a branch of the Office of Enforcement and Oversight. "LATA Kentucky saw the benefits of building relationships with our office and increasing our awareness of the programs the company has in place."
Dressman and two other team members visited Paducah in mid-June for a DOE Headquarters regulatory assistance review providing LATA Kentucky feedback on identifying, evaluating, tracking, reporting and correcting noncompliances with DOE worker safety and health regulations. The first morning was set aside for training, and the rest of the review largely involved interviews and discussions — individually and in small groups — with people involved in the process.
"We're here at LATA Kentucky's request; this is not an enforcement investigation," Dressman said at the start of the visit. "We offer this service to all DOE contractors who are interested in getting this kind of feedback."
The informal, proactive exchange with LATA Kentucky managers and safety and health professionals led to a summary briefing following the review describing positive observations and potential areas for improvements.
Over the previous 12 months, LATA Kentucky invested significant resources improving internal processes and oversight activities. Dressman's team provided the unique opportunity of an objective review and feedback regarding those improvements and their implementation, said Michelle Dudley, LATA Kentucky quality manager.
 
"The positive feedback from the assist team during the out brief supported LATA Kentucky's internal judgment that the improvements were appropriate and served to increase rigor in the programs overall," Dudley said. "The assist team also provided valuable input to strengthen areas within the current programs based on lessons learned from other sites."
LATA Kentucky is reviewing the shared insight for incorporation into existing programs as future process improvements, Dudley said.
Safety is a core value of LATA Kentucky and not just a priority, said Eddie Magness, manager of Environment, Safety, and Health.
"We are proud of the fact we have achieved 1.5 million safe work hours without a lost-time injury and more than 900,000 hours without a recordable injury. Our workers are going home safe," Magness said.
 
LATA Kentucky is a learning organization committed to continuous improvement, Magness said. Partnering with the Office of Enforcement and Oversight in a regulatory assistance review is an opportunity to confirm that the company's safety processes conform to established requirements and sound management practices.
"Our workforce and our project will benefit from this interaction and the collective experience of the team," Magness said.
Dressman said his office typically does three or four regulatory assistance reviews each year. The most recent at Paducah was for the classified information programs for DOE infrastructure contractor Swift & Staley in May 2011.
Team member Valerie Steele is a former Paducahan who attended Paducah Tilghman High School and Murray State University in Kentucky. David Zwolak is team lead.