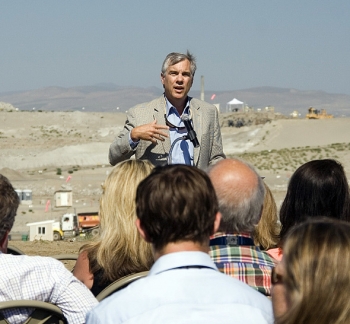 Matt McCormick, manager of the Richland Operations Office, commends a large group of Hanford workers for the 15-million-ton milestone at a public event at the Environmental Restoration Disposal Facility.
RICHLAND, Wash. – EM's Environmental Restoration Disposal Facility (ERDF) — a massive landfill for low-level radioactive and hazardous waste at the Hanford site — has achieved a major cleanup milestone.
Since beginning operations in 1996, workers supporting the Richland Operations Office have disposed of 15 million tons of contaminated material in the facility, a volume of soil and debris that would fill Seattle's Safeco Field ballpark to its roof about 4 times over.
ERDF is operated by EM-funded contractor, Washington Closure Hanford, as part of the River Corridor Closure Project, DOE's largest environmental cleanup closure project. The landfill accepts contaminated soil, demolition debris and solid waste from cleanup across the 586-square-mile Hanford site in southeast Washington state.
Matt McCormick, manager of Richland Operations Office, said disposing of 15 million tons of waste reflects the tremendous amount of cleanup accomplished over the past 24 years at Hanford.
"ERDF is a critical part of the Hanford cleanup mission," McCormick said. "It provides a safe and compliant location to dispose of a variety of waste material, allowing us to accomplish our highest priority goal of preventing contaminants from reaching the Columbia River."
Hanford was established by the U.S. government in 1943 as part of the Manhattan Project. Its mission was to manufacture weapons-grade plutonium for America's defense program during World War II and throughout the Cold War.
ERDF, located in central Hanford, is the largest disposal facility in the EM complex. It covers 107 acres at the base of the disposal trench — roughly the same area as 52 football fields — and has a capacity of 18 million tons. In addition to contaminated soil and building debris, ERDF accepts other hazardous materials such as mercury, asbestos, beryllium, chromium and lead that can be treated onsite before disposal.
The majority of waste material disposed at ERDF — about 13.5 million tons — was generated in a section on Hanford's River Corridor, a 220-square-mile stretch of land that runs along the Columbia River. The River Corridor was home to Hanford's nine plutonium production reactors, fuel development facilities and hundreds of support structures.
McCormick and Washington Closure President Carol Johnson praised a large group of Hanford workers.
"We have an exceptional workforce committed to safely and efficiently handling and disposing a variety of waste material," Johnson said. "Everybody involved in the cleanup process, whether they are working to decontaminate and demolish buildings, dig up waste sites and burial grounds, or are involved in the disposal process, has contributed to this remarkable achievement."
Dennis Faulk, Hanford's program manager for the U.S. Environmental Protection Agency, said, "Without ERDF, Hanford cleanup would look nothing like it does today."  
ERDF is made up of disposal areas called cells, most of which were constructed two at a time. Each pair of cells is 70 feet deep, 500 feet wide and 1,000 feet long at the base — large enough to hold about three million tons of material. As each pair of cells reaches capacity, an interim cover is installed to prevent the infiltration of water. A permanent cap will be placed over the facility when Hanford cleanup is completed.
In February 2011, EM and Washington Closure completed the fourth and largest expansion of the facility since it opened. The $100 million project, supported with funding provided by the American Recovery and Reinvestment Act, increased the facility's capacity by 50 percent. Recovery Act dollars also were used to construct three maintenance buildings and an operations center, and for new equipment to support disposal operations.
ERDF was designed to be expanded as needed. McCormick said the facility most likely will undergo its next expansion in 2018 and 2019.