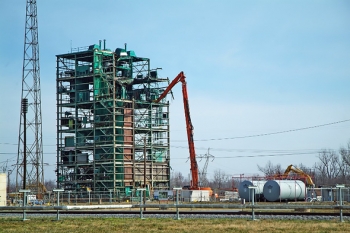 A high-reach shear removes debris from the tallest structure of the C-340 complex at Paducah. Watch a video of this work here. The 120-foot-high Metals Plant was the tallest building at the Paducah site and encompassed about 1.5 million cubic feet, the volume of a football field roughly three stories tall. Demolition debris filled 28 rail cars and was shipped offsite for disposal.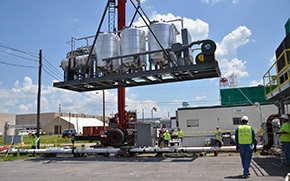 A carbon regeneration unit is lowered into place for above ground treatment at the C-400 Cleaning Building. Watch a video of this work here.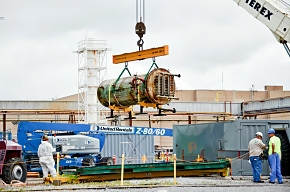 A 10,000-pound cold trap is lifted and boxed in a container for on-site storage at Paducah.
PADUCAH, Ky. – Work to remove two aging, inactive structures and clean up a leading source of groundwater contamination marked the top 2013 accomplishments for the EM program at the Paducah site.
In February, cleanup contractor LATA Environmental Services of Kentucky razed the C-340 Metals Reduction Plant at Paducah after nearly five months of demolition work and years of internal process equipment removal. Used to manufacture uranium metal during the Cold War, the Metals Plant contained polychlorinated biphenyls (PCBs), radionuclides and asbestos. It was the first uranium processing facility at the site to undergo full-scale demolition.
In July, LATA Kentucky completed installation of an electrical resistance heating system to remove the degreaser trichloroethene (TCE) from the ground near the C-400 Cleaning Building in the center of the Paducah site. The system will operate to remove TCE from depths of about 20 to 60 feet. Vapor and water are being pumped to the surface and treated using carbon adsorption.
The C-410 Feed Plant, another inactive facility, continued to undergo cleanup to prepare it for future demolition. It was used to manufacture uranium hexafluoride (UF6) during the Cold War. Workers stabilized more than 9,000 feet of UF6 piping; removed and neutralized more than a ton of residual UF6; removed asbestos wiring; and removed and packaged 20 cold traps (used to "trap" and store UF6), weighing more than 10,000 pounds each. The cold traps were placed in long-term storage for future asset recovery.