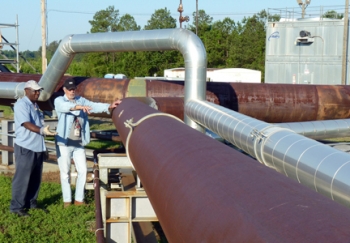 Harrel McCray, left, and Joey Clark, employees with SRS management and operations contractor, Savannah River Nuclear Solutions, stand by an extensive SRS cleanup system that safely and successfully rid the site of more than 33,000 gallons of non-radioactive chemical solvents from 10 million cubic feet of soil through the injection of millions of pounds of steam.
AIKEN, S.C. – Workers recently completed a multiyear project that removed more than 33,000 gallons of non-radioactive chemical solvents from beneath a portion of the Savannah River Site (SRS), preventing those pollutants from entering the local water table and helping the site avoid costs of more than $15 million.
"This accomplishment highlights our success in developing and deploying innovative, cost-effective technology solutions to cleanup challenges," DOE-Savannah River Operations Office Manager Dr. David Moody said. "This is the type of innovative solution we think can prove valuable to other federal agencies and private industry,"
The method used to remove sub-surface solvents is known as Dynamic Underground Stripping (DUS). Workers drilled strategically placed vertical, horizontal and angled penetrations through 10 million cubic feet of soil located beneath the M Area pond. Next, they injected millions of pounds of steam, raising the temperature of the solvents so they vaporized. The solvent vapors and some associated contaminated liquids were then removed from the contaminated area through the use of 33 extraction wells and treated at the surface.
The project substantially reduced the time and cost needed to clean up the M-Area underground chemical contamination. SRS scientists estimate that the use of DUS technology accelerated the remediation of this portion of M Area by at least 60 years.
The cost avoidance of more than $15 million was possible through the following actions:
Attainment of an air emissions permit that eliminated the need for an expensive off-gas treatment system (allowing for an estimated $7 million in cost avoidance);

Use of an existing steam plant instead of leased portable boilers (allowing for a cost avoidance of more than $8 million); and

Reuse of programmable logic control system equipment from other remediation projects (avoiding a $50,000 cost).
M Area spans about 45 acres. Fuel and target rods were produced within several facilities of M Area during the decades when nuclear production reactors were in operation at SRS. Degreasers, in the form of liquid solvents, were used as a part of the production process to clean the rods.
In 2010, SRS celebrated the completion of M Area work funded by the American Recovery and Reinvestment Act. Recovery Act workers remediated 19 waste units, used grout to seal process sewer line manholes and treated about 4,000 cubic yards of contaminated soils and concrete rubble.
"Successfully completing our operations-related missions at SRS while responsibly guarding the health of our employees, area residents and the environment is a challenge we've fully accepted and an area where we continue to succeed," said Dwayne Wilson, president and CEO of Savannah River Nuclear Solutions, the SRS management and operations contractor. "We take this important responsibility very seriously."
The next phase of the program involves dismantling and removing much of the process equipment.
In a recent letter to SRS employees, Franklin Hill, director of the U.S. Environmental Protection Agency's Superfund Division, said, "Of all the federal installations within Region 4, SRS is the front-runner in environmental protection and is distinguished by its collaborative approach to regulatory negotiations."