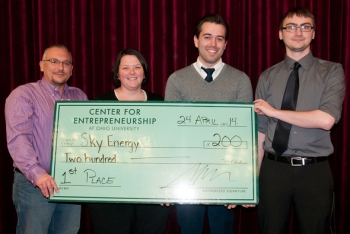 Sky Energy of Ohio University claimed first place in the competition for its clean and renewable energy pitch to construct a solar and wind facility at the Portsmouth site. From left, David Felty, Mishion Payne, Bobby Pfeiffer, and Zach Ousley.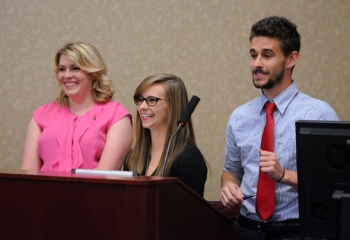 Team Atom presents its proposal for a nuclear power plant, which earned Shawnee State University students second place in the competition. From left: Rebekah Keys, Rebecca Legge, and Thomas Carbonari.
PORTSMOUTH, Ohio  ̶  Students and aspiring entrepreneurs from Ohio University in Chillicothe and Shawnee State University in Portsmouth recently went head-to-head in a Regional Business "Pitch" Competition sponsored by DOE.
The competition at Shawnee State called for business plans to incorporate some of the available resources at EM's former Portsmouth Gaseous Diffusion Plant site in Piketon. Each team provided a 10-minute presentation before answering questions from a panel of judges from EM, TechGROWTH Ohio, and university faculty. Five finalist teams presented their ideas to judges.
TechGrowth is a partnership of regional economic development entities striving to create jobs and build the economy of southeast Ohio through supporting startup technology companies.
"The students' research and initiative were solid. That, along with their entrepreneurial spirit, will help them be successful in their future endeavors," said Greg Simonton, who heads public outreach initiatives at the Portsmouth site. "The Department is glad to be able to support competitions like this one, which help encourage entrepreneurship in Jackson, Pike, Ross and Scioto counties."
Team "Sky Energy" from Ohio University won first place for its proposed solar and wind farm that would repurpose about 120 acres of land at the Portsmouth site and provide employment opportunities during construction and operation of the facility.
"We put a lot of time into just the research alone," Sky Energy's Bobby Pfeiffer said. "When you start looking at something as big as renewable energy, there's a lot to it. There's a lot that's not readily available to just anybody. It kind of gets deep quick."
Second place was awarded to team "Atom" for its proposal to build a nuclear power plant, and third place was earned by "Athletes" for its idea to construct a solar farm. Both teams were from Shawnee State.
"At first, the students seemed overwhelmed, but they quickly became very successfully engaged in preparing and presenting their potential business ventures," said TechGROWTH Associate Operations Director Faith Knutsen, who helped plan the event through Ohio University's Voinovich School of Leadership and Public Affairs.
"This was our first regional pitch competition and we were delighted by the result," Knutsen said.
"It was great to see and understand how each team envisioned the (Portsmouth) site and how each proposal fit into the immediate local community with respect to employment and the additional creation of jobs through supporting businesses," said EM contractor Michael Becraft of Restoration Services, Inc. (RSI), one of the competition's judges.
Once the teams were formed in January, students began incorporating feedback from weekly coaching sessions and focusing on their business plans. Through this exercise, undergraduate students from a range of degree programs were able to gain experience in a business team environment. Five of the eight teams that competed in campus competitions at each university in March qualified for the regional competition.
Ohio University's PORTSfuture grant from DOE, administered by EM's Portsmouth/Paducah Project Office, helped fund the competition.
Ohio and Shawnee State universities awarded cash and gift card prizes to the winners of the competition.