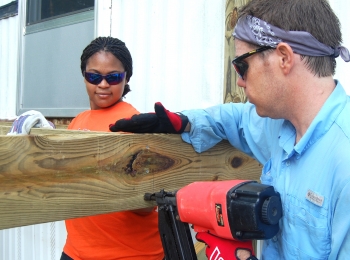 James Cunningham, right, nails a board to the framework for a deck project in Jackson. Ashley Flowers, Savannah River Remediation project controls intern, assists by holding the board in place.
AIKEN, S.C. – More than two dozen college interns who worked at the Savannah River Site (SRS) this summer joined other volunteers and headed into area neighborhoods to help people in need with home repairs.
It was a day of community outreach for the interns, who used their hands, hearts and minds to help those who needed assistance.
The interns, seven senior managers with Savannah River Remediation (SRR), the SRS liquid waste contractor, and United Way of Aiken County coordinators helped to make the SRR Project VISION Community Day a success.
Five teams of SRR managers and interns met at locations selected by the United Way in the South Carolina communities of Aiken, Jackson and New Ellenton. They performed crucial home repairs for people who lack the means to do them or are not physically able to perform the work themselves.
SRR scheduled the event outside of work hours to make improvements in the communities surrounding SRS and to show the interns that the needs of other people outweigh their own, SRR President and Project Manager Dave Olson said.
"I am proud of how many of our interns gave up their personal time to help others," Olson said. "The participating senior management team demonstrated its passion toward community giving and, together, we were able to really make a difference in people's lives."
Several of the constructions projects called for expert leadership and a willingness to learn new skills quickly. After two safety briefings — one at SRS and the other at their respective construction locations — the teams went to work on projects that included the demolition and reconstruction of three decks and ramps, window repairs and a successful house-leveling job that improved a five-inch differential in the floor from one end of the house to the other. The completion of these projects represented a significant improvement in the lives of these residents, who were living in unsafe conditions.
James Cunningham, SRR legal intern and third-year student at Charleston School of Law, brought his experienced construction skills and giving spirit to one of the deck-building teams.
"One thing I especially like about these types of activities is that they show folks from older generations that their safety and comfort is important to us," said Cunningham. "I hope the homeowner and his family enjoy their new deck, and perhaps it will inspire them to pay the kindness forward."
The United Way selected the home-repair locations after receiving requests from homeowners. The recipients of the improvements had circumstances that put these crucial projects beyond their capabilities.
"I feel fortunate to have had the opportunity to participate as a member of SRR," Cunningham said. "Community outreach programs like these are a crucial part of successful corporate and community integration."