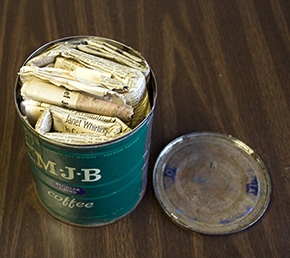 The time capsule and its contents will be brought before a DOE Hanford artifact committee that determines what to do with historic Hanford items.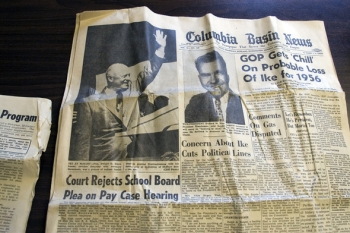 Columbia Basin News ran a photo of President Dwight Eisenhower waving at the dedication of nearby McNary Dam in 1954.
RICHLAND, Wash. – Two workers supporting the Richland Operations Office at the Hanford site got quite a surprise while preparing a building for demolition.
Sean O'Neal and Randy Young, who work for EM-funded contractor Washington Closure Hanford, were removing asbestos-board panels from inside an old electrical substation near Hanford's D and DR reactors when they discovered a green MJD coffee can tucked inside a wall.
"We had no idea what was inside. We treated it the same way as we do any anomaly," Young said.
They immediately contacted their craft supervisor, Dustin Cooper. Wearing a pair of white coveralls and a respirator, Cooper entered the building to inspect the can. He unpeeled the electrical tape that secured a metal lid and found several newspapers wedged inside. He gently pulled them out just enough to notice they were dated September 1955.
"The first thing that came to my mind was, 'Cool … a time capsule,'" Cooper said.
Tom Marceau, a senior cultural resources specialist for Mission Support Alliance — the Hanford contractor responsible for collecting artifacts and historical items discovered across the 586-square-mile site — quickly made his way to the work site to examine the time capsule. With Marceau looking on, Cooper put on latex gloves and delicately removed the newspapers from the can. With them came a note written on a "Don't say it … Write it!" memo form used for decades at Hanford. The form was dated "9-26-1955 A.D." and was addressed "to whom it may concern."  There was no message, only the signatures of K. Edward Thomas, Monte D. Dickinson, and what appears to be Henry L. Matear.
The stash included copies of the Seattle Post-Intelligencer, the Spokesman Review and Columbia Basin News, a competitor to the local Tri-City Herald in the 1950s. There also was a copy of the GE News, a publication for Hanford workers while General Electric managed the project.
The big news story of Sept. 26, 1955, was President Dwight Eisenhower's heart attack. The Seattle Post-Intelligencer's top headline was "President Satisfactory; Heart Attack Moderate."
The lead story of the Sept. 24, 1955 edition of the Spokesman Review was a reproduction of a hoax ransom note asking for $5,000 in five, 10 and 20 denominations. The GE News featured a story about workers winning money for their cost-savings ideas.
Marceau is hoping to track down the workers who left the note or someone who can provide more information. So far, he's had no success.
"The fact that these workers put this together is really neat," he said. "We'd love to talk with the workers and find out more about it."
D Area was home to two of Hanford's nine reactors built to produce plutonium for the nation's defense program. D Reactor operated from 1944 to 1967, and DR Reactor operated from 1950 to 1964. The reactors were placed in long-term storage, a process known as "cocooning," in 2004 and 2002, respectively. The substation where the newspapers were found served as the primary source of electrical power for all facilities associated with reactor operations.
Cleanup of D Area is part of the River Corridor Closure Project, one of the largest environmental cleanup projects in EM complex and the nation. Washington Closure manages the project for EM's Richland Operations Office.