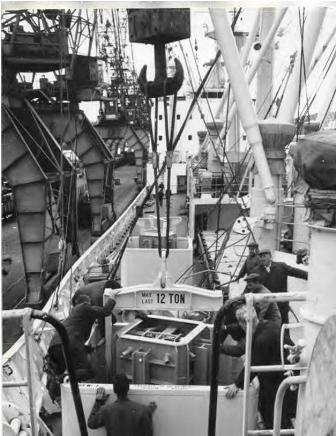 A view of the first cask of reactor fuel from Sweden being unloaded from the m.s. Odensholm on July 21, 1963 in Savannah, Ga.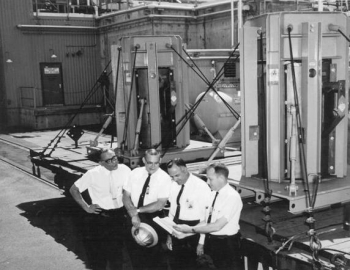 Checking a shipment of reactor fuel are, left to right, Samuel Edlow, U.S. Representative for Aktiebolaget Atomenergi of Sweden; S.D. Smiley, offsite fuels coordinator for the Du Pont Company at Savannah River; S.D. Tatalovich, Atomic Energy Commission international affairs representative; and Robert L. Chandler, chemical engineer with the Savannah River Operations Office.
Fifty years ago, President Dwight D. Eisenhower initiated his global vision of hope and security for the U.S. and the world in the nuclear age. EM has a historic role in fulfilling that vision that continues today.
Eisenhower promoted peaceful uses of nuclear technology in his Atoms for Peace speech to the United Nations in 1953. He also called for the creation of the International Atomic Energy Agency to oversee this initiative. In his address, Eisenhower said:
"The United States knows that peaceful power from atomic energy is no dream of the future. The capability, already proved, is here today. Who can doubt that, if the entire body of the world's scientists and engineers had adequate amounts of fissionable material with which to test and develop their ideas, this capability would rapidly be transformed into universal, efficient and economic usage?
To hasten the day when fear of the atom will begin to disappear from the minds the people and the governments of the East and West, there are certain steps that can be taken now."
Eisenhower's vision eventually became tangible for the U.S. and its international partners.
In 1963, the first shipment of spent nuclear fuel (SNF) arrived in the U.S. It came from the R-2 research reactor in Studsvik, Sweden on a cargo ship, porting in Savannah, Georgia. The SNF shipment was part of the Foreign Research Reactor Spent Nuclear Fuel Acceptance Program. This Atoms for Peace initiative was designed to recover and store U.S. origin reactor fuel from countries around the world. The fuel was eventually shipped by rail to the Atomic Energy Commission's (AEC) Idaho site. The AEC was the forerunner to today's DOE.
The shipment arrived on time and in excellent condition, setting the standard for future receipts to the Idaho National Laboratory and Savannah River Site. Hundreds of SNF casks have since been shipped safely and securely to the U.S. from reactors around the world from countries that received fuel from the United States for research. On July 21, 2013, the Department celebrated the 50th Anniversary of the First Return of Irradiated Fuel from the Atoms for Peace Program. The international cooperation fostered by the program has been very successful for the U.S. and its overseas partners. The program is scheduled to continue until May 2019.