Quality Assurance Newsletters and Bulletins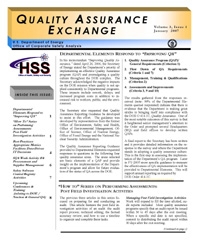 The Quality Assurance Exchange is a forum for the exchange of ideas and the sharing of experience related to QA issues among DOE field offices, contractors, and DOE headquarters. Readers are strongly encouraged to contribute articles on the implementation of QA requirements, on lessons learned and to offer suggestions. . 
If your contact information has changed or if you would like to receive the QA Exchange Newsletter, forward the following information to qaexchange@hq.doe.gov.
Name 
Phone Number 
E-mail address 
Federal or Contractor personnel 
DOE Organization or company name 
and site name, if applicable