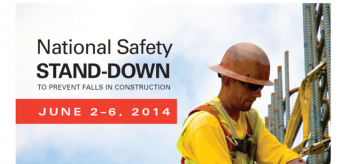 Falls are the number one cause of workplace fatalities in the construction industry, accounting for more than a third of all deaths in the construction industry. To address this important safety issue, Occupational Safety and Health Administration (OSHA) has scheduled a National Safety Stand-Down from June 2-6 to raise awareness among employers and workers about the hazards of falls. This standdown is part of an ongoing fall prevention campaign, which the Agency launched in 2012.
OSHA will be working with employers, workers, industry groups, civic organizations, and States with occupational safety and health plans to host safety standdowns focusing on recognizing hazards and preventing falls. OSHA encourages employers and workers to pause their workday to talk about fall prevention in construction and discuss topics, such as ladder safety, scaffolding safety, and roofing-work safety.
As part of this effort, OSHA has launched a National Safety Stand-Down Web page with information on how to conduct a successful standdown. The Web page provides details on how to conduct a standdown; receive a certificate of participation; and access free education and training resources, factsheets, and other outreach materials in both English and Spanish.
As part of this important safety initiative, the Office of Environment, Health, Safety and Security encourages you to consider participation and is providing the attached Ladder Safety information sheet for distribution.