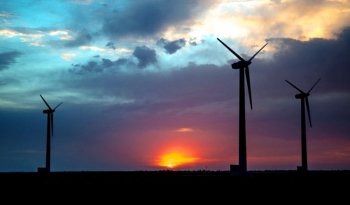 The DOE/Sandia Scaled Wind Farm Technology (SWiFT) facility located at Texas Tech University in Lubbock, Texas, allows for rapid, cost-efficient testing and development of transformative wind energy technologies, with a specific emphasis on improving wind plant performance. The facility's commissioning in July 2013 marked the launch of the A2e Initiative. Photo by Lloyd Wilson/SNL
For more than three decades, wind industry research has focused primarily on driving innovation in wind turbine components like rotors, blades, gearboxes, and generators. DOE launched the Atmosphere to Electrons, or A2e, Initiative last July to introduce a new paradigm for large-scale collaborative research. Led by the National Renewable Energy Laboratory, Pacific Northwest National Laboratory, and Sandia National Laboratories, this strategic effort aims to see the forest as well as the trees—or more appropriately, the wind farm as well as the turbines.
This wide-angle approach includes efforts that extend to the wind plant level up to and including the electric grid interface. Specifically, the A2e vision targets a better understanding of the underlying physical processes and causal effects driving wind plant underperformance. It aims to develop high-fidelity modeling tools for wind plants, and assess opportunities to maximize performance, minimize costs, and mitigate risk from an integrated wind plant systems perspective. Ultimately, the initiative hopes to provide industry with validated tools and demonstrated concepts for developing next-generation technologies.
Since last July, the A2e executive committee has been developing a comprehensive approach for working with multiple stakeholders (industry, national laboratories, international experts, and universities) over the next 5­ to 7 years. In February, they held an external merit review committee made up of industry professionals, representatives from academia, and international stakeholders to lay the groundwork for an A2e multi-year strategic research plan. The goals outlined in the plan are to optimize existing wind plant performance, facilitate seamless grid integration at high penetrations, and improve wind plant performance through the development of next-generation technology. This group will participate in annual merit review meetings, provide an external assessment of program performance, and quantify the A2e impact throughout the lifetime of the initiative.