The National Idling Reduction Network brings together trucking and transit companies; railroads; ports; equipment manufacturers; Federal, state, and local government agencies (including regulators); nonprofit organizations; and national research laboratories to identify consistent, workable solutions to heavy-vehicle idling for the entire United States. Below is the most recent issue; the archives are available on the Archives page.
Subscribe to the Newsletter
To receive NIRNN by e-mail monthly, please e-mail Patricia Weikersheimer or enter your email in the box on the right-hand side of the page. If you have news you believe would be of interest to newsletter readers, please send it to idlingreduction@anl.gov
January 2016 National Idling Reduction Network News: From the Editor
It's "Puffer" Time of Year
To greatly paraphrase the late Speaker of the U.S. House of Representatives, "Tip" O'Neill, all idling is personal. People have very strong feelings about idling their vehicles, especially in the winter. They want warm cars, period. On the other hand, thieves are on the lookout for "puffer" cars where idling exhaust and keys in the ignition make the cars an easy target.
Drivers use remote starters to idle their engines for up to 20 minutes. A husband may see it as a sign of devotion to warm up his wife's car so it's nice and toasty when she gets in it. Parents want warm cars for their infants and young children because car-seat safety instructions, parenting advice books, or their pediatricians recommend against dressing them in bulky clothing.
Idling a car, however, is an inefficient way to warm it up. We have access to some of the greatest automotive engineers at the U.S. Department of Energy and its national laboratories where automotive research is ongoing. These people walk the talk with their own vehicles: start the car, remove snow and ice as necessary, and drive gently for a few miles. If there's no snow and ice, then idling 30 seconds should do it before driving.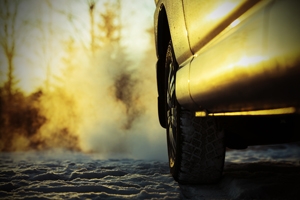 So, what do we suggest?
Unnecessary idling wastes fuel, creates emissions, and may cause engine wear. Please see the Business Insider's recent interview with Steve Ciatti, principal mechanical engineer for Argonne National Laboratory. Dr. Ciatti explains why driving your car (gently) warms it up more efficiently than does idling.
Vehicle owner's manuals can reveal a wealth of information. For example, the owner's manual for the Ford F-150 says to idle for only a minute and suggests more frequent oil changes for those who idle a lot.
Those who must prewarm their car interiors should avoid leaving their idling cars unattended. In some locations, it's actually illegal to do so—and for good reason, especially if children, pets, or valuables are in the car! This is high season for car thieves looking for "puffer" cars.
Natural Resources Canada offers much the same guidance, and their winters get mighty cold.
Air pollution affects us all. We hope that drivers will consider all of these issues when deciding whether or not to turn their vehicles into puffer vehicles this winter.
Terry M. Levinson, Editor
Allegheny Science & Technology
tlevinson@alleghenyst.com
Patricia Weikersheimer, Writer
Argonne National Laboratory
pweikersheimer@anl.gov
Solicitations for Funding and Awards
Program (with link to website) — Organization — Funding Amount — Due Date  (Information new since last month in boldface.)
Deadline in Chronological Order
First Come, First Served
Rolling Deadline Until Funds Are Awarded
Regulatory News
ELDs Required: An Idling Data Collection Opportunity
In December, the U.S. Department of Transportation's Federal Motor Carrier Safety Administration (FMCSA) announced the adoption of its final rule requiring the use of electronic logging devices (ELDs) for commercial drivers who must comply with federal hours-of-service rules.
Because ELDs monitor driving time, engine-on hours, and vehicle movement, idling-time data will become available to a larger number of fleets.
Drivers currently using paper logbooks to record hours of service must adopt ELDs within 2 years. For more information, please see the FMCSA website.
Reports and Other Resources of Interest
Upcoming Meetings and Events
Name of meeting [with Link to Website] Date (Location) (Information new since last month in boldface.)
Manufacturers' News
Start-Stop Will Be Standard in Some of Ford's 2017 F-150 Trucks
Ford Motor Company has announced that auto start-top technology—also called mild electrification—will be standard in its EcoBoost-equipped 2017 F-150 truck line. In these "mildly electrified" pickup trucks, the engine will shut off at stops and restart when the driver releases the brake pedal. In the F-150s, the technology is designed to not engage when the truck is in towing or four-wheel drive mode.
According to a Ford press release, auto start-stop could soon represent more than 60% of the F-150 lineup. More information is available at the Ford Media Center web page.
Webasto Launches Battery-Electric Cooling for Work Trucks
Webasto is introducing a new battery-powered electric cooling system designed to allow work-truck operators to turn off their engines and remain comfortable even in humid and full-sun conditions. According to the manufacturer, the new Polar Cab ES has a cooling capacity up to 7,000 BTU/h with low power consumption. It also includes a compact 24-V variable-speed electric compressor that requires no additional batteries.
Webasto launched a thermal-storage cabin-cooling system, the Polar Cab TS, last fall. More information about these products is available at PR Web.
Electrified Parking Spaces
IdleAir's Pricing Promotion
IdleAir is offering special pricing packages in the coming months. Through the end of May, drivers can get 12 hours of service for $20 or 24 hours for $35. For drivers who need only 120-V plug-in power, IdleAir is offering 10 hours of service for $12.50 through the end of April. IdleAir's website contains more information.
Telematics
Study: Telematics To Grow Rapidly for Long-Haul Sector
C.J. Driscoll & Associates has released a study on the use of GPS fleet-management systems. These systems, also called telematics, enable fleet managers to monitor not only the locations of their vehicles, but driver behaviors that affect fuel economy, such as speeding, hard braking, and unnecessary idling.
The 2016-17 U.S. Mobile Resource Management Systems Market Study states that growth has been especially great—15%–20% per year—for the local service and delivery fleet sector. It's expected to be even greater, however, for the long-haul trucking sector in coming years because of FMCSA's recently issued rule requiring the use of ELDs by interstate truck drivers.
For more information, please see the C.J. Driscoll & Associates website.
Additional Idle Reduction Resources
Please visit the Vehicle Technologies Office's Idle Reduction webpage for links to more idle reduction resources, including an idling reduction savings calculator (xls calculator and printable pdf calculator), Locations of Electrified Parking Spaces, Status of the Weight Exemption for Idling Reduction Devices, and back issues of National Idling Reduction Network News. Other resources include IdleBox, an electronic, modular toolkit to facilitate idling reduction outreach and implementation, IdleBase, a database of idling regulations for all classes of on-road vehicles, and the Alternative Fuels Data Center idle reduction page.