The National Idling Reduction Network brings together trucking and transit companies; railroads; ports; equipment manufacturers; Federal, state, and local government agencies (including regulators); nonprofit organizations; and national research laboratories to identify consistent, workable solutions to vehicle idling for the entire United States. Below is the most recent issue; the archives are available on the Archives page.
Subscribe to the Newsletter
To receive NIRNN by e-mail monthly, please e-mail Patricia Weikersheimer or enter your email in the box on the right-hand side of the page. If you have news you believe would be of interest to newsletter readers, please send it to idlingreduction@anl.gov.
October 2016 National Idling Reduction Network News: From the Editor
On-Board or Wayside? That Is the Question
Which makes better economic sense—equipping your heavy-duty, long-haul fleet with on-board idling reduction equipment such as auxiliary power units (APUs) or paying to stay at a wayside location? A newly released report from Argonne National Laboratory may help you decide which approach costs less. Idling Reduction for Long-Haul Trucks: An Economic Comparison of On-Board and Wayside Technologies presents the options available to fleet managers and owner-operators who want to reduce truck idling during federally mandated rest periods.
The timing of this new report ties closely to our review last month of the 2016 Annual Fleet Fuel Study from the North American Council for Freight Efficiency and another new report, A Survey of Fuel Economy and Fuel Usage by Heavy-Duty Truck Fleets, from the University of Michigan Transportation Research Institute and the American Transportation Research Institute. Together, all three reports deliver useful information on economics and actual usage of idling reduction equipment.
The Argonne report is a deep dive into the costs (capital and operating) and return on investment for idling reduction equipment for both truck owners and electrified parking space (EPS) equipment owners. According to the report, when fuel costs more than $2 per gallon, all idling reduction options will save money over a 5-year period. To determine what's optimal depends on other factors, such as
The capital cost of on-board idling reduction equipment
The operating costs for idling reduction equipment as a function of fuel price
The number of idling hours.
Several charts in the report illustrate how to use these factors to determine which idling reduction approach to adopt. The charts project operating costs for a nominal 5-year period and then after the equipment is paid off; they also show curves for both high and low idlers and a full range of fuel costs ($0 to $5 per gallon).
For example, Figure 18 (below) shows equipment payback time as a function of fuel price for high idlers (2,000+ hours per year). (Retail fuel prices the week of October 31, 2016, are $2.48/gal, which is slightly higher than the price during the writing of this report.)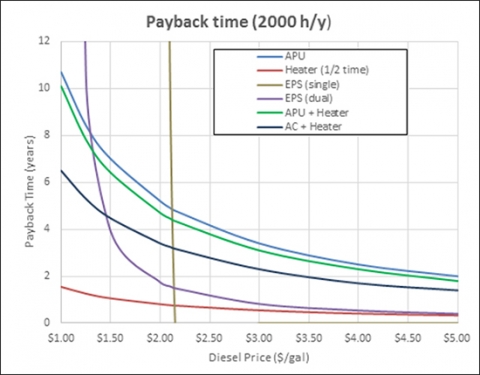 Used with permission of Argonne National Laboratory.
Next, a discussion of economics for prospective owners of wayside or electrified parking spaces (EPS) helps the site owner calculate what has or hasn't worked in the past for the two remaining suppliers of EPS: IdleAir and Shorepower. At the time of the writing of the report (spring 2016), there were 1,160 gantry locations at 35 IdleAir sites while Shorepower had almost 1,500 pedestals at more than 60 sites.
Utilization varies considerably from site to site, a major factor for a site owner looking for income. The report notes that usage is much higher in the summer months in the South where air conditioning is necessary and on-board equipment may not be up to the task of providing enough cooling for the driver, especially over 34-hour restart periods. Usage is also high at fleet terminals.
Lastly, the report offers a worksheet to calculate payback of equipment. Using this calculator helps the fleet manager or owner-operator come to a financial decision of what works best for that fleet or truck.
We welcome hearing about your experience with both on-board and wayside idling reduction equipment.
Terry M. Levinson, Editor
Allegheny Science & Technology
tlevinson@alleghenyst.com
Patricia Weikersheimer, Writer
Argonne National Laboratory
pweikersheimer@anl.gov
Solicitations for Funding and Awards
Program (with link to website) — Organization — Funding Amount — Due Date  (Information new since last month in boldface.)
Deadline in Chronological Order
First Come, First Served
Rolling Deadline Until Funds Are Awarded
Awards and Recognition
Awardee — Source of Award — Purpose of Award — Award Amount
Maryland Environmental Service — U.S. EPA — Equipment upgrades/replacements for up to 26 pieces of cargo-handling equipment at the Port of Baltimore and the installation of 5 automatic stop-start devices on locomotives at a nearby rail yard — $978,302.
Regulatory News
Volkswagen Settlement Approved; Billions To Support NOx-Reductions Projects
A federal judge has approved the Volkswagen "emissions cheat" settlement. Of the $14.7 billion settlement, $2.7 billion will fund an environmental mitigation trust supporting projects that reduce nitrogen oxide (NOx) emissions. Eligible vehicles and projects include not only diesel trucks, but switcher locomotives, cargo-handling equipment, ferries and tugboats, ground-support equipment at airports, and shorepower for ships at port.
Each state will receive an allocation; California and Texas are slated for the highest shares at $391 million and $192 million, respectively. For more information, please see the AASHTO Journal.
Ann Arbor Adopts Idling Ordinance
The City of Ann Arbor, Michigan, has passed an idling ordinance. Less restrictive than the rule that was proposed but did not advance a few years ago, the new law prohibits drivers of commercial motor vehicles from idling for more than 5 minutes in any 60-minute period. It also prohibits any vehicle from idling in (yet-to-be-designated) no-idling zones and the idling of any unoccupied vehicle. The minimum fine for violations is $100.
The ordinance includes typical exemptions for temperature and safety, but is notable in its broad definition of motor vehicles, which includes not only on-road vehicles but also hoists, cranes, watercraft, and self-propelling lawn mowers ("any vehicle propelled by internal combustion engine"). Also unusual is the broad enforcement authority granted. Authorized enforcers include not only police officers, but those holding other community, public service, and safety positions. According to an article in the Michigan Daily, however, the City's hope is that awareness rather than enforcement will reduce idling. Ann Arbor plans a community education campaign.
The ordinance will take effect on July 1, 2017. To read the text of the ordinance, please go to Legistar.com.
Reports and Other Resources of Interest
Upcoming Meetings and Events
Name of meeting [with Link to Website] Date (Location) (Information new since last month in boldface.)
Manufacturers' News
New Idle Mitigation System from Terex
Terex Utilities has introduced a new idle mitigation and cab comfort system. The HyPower IM, which uses a 48-V lithium-ion battery system, operates utility trucks' boom, lights, and flashers in engine-off mode. An option to run cab heat, air conditioning, and exportable power is also available.
The HyPower IM can be installed on new vehicles or retrofitted on existing vehicles and can be charged from a 120-V plug-in connection or by the engine's alternator during road travel. CARB approved, the HyPower IM may save up to 1,200 gallons of fuel annually, according to the manufacturer.
For more information, please see Terex's website. A video on the HyPower IM system is available on YouTube.
Mobile App for Idle Free Systems APU
Phillips & Temro Industries has launched an app that allows truck drivers to access information about their Idle Free Systems APU and other idling reduction-related information on their mobile devices. The app helps drivers locate truck stop electrification (TSE) sites and dealers that service its Idle Free APU. It also includes a troubleshooting guide and a link to idling laws by state. More information is available at Truckinginfo.com.
Energy-Efficient Mobility Systems
Smarter Streetlights Reduce Idling in Pittsburgh
In Pittsburgh, stoplights at 50 intersections are equipped to optimize traffic-signal performance in real time, reducing travel time, congestion, idling, and emissions. The program began with a 12-stoplight pilot in 2012.
Unlike traffic lights that operate on simple timers, perhaps with the addition of in-road sensors, the Surtac (Scalable Urban Traffic Control) system being used in Pittsburgh gathers traffic data with radar sensors and cameras and uses artificial intelligence algorithms to control traffic-light timing. Making real-time adjustments based on current traffic conditions—and sending information to other streetlights in the network—optimizes total vehicle "throughput" efficiency.
According to Surtac's website, the system has reduced travel time by up to 25% and idling time by more than 40%. For more information, please see the websites of IEEE and Surtac.
Additional Idling Reduction Resources
Please visit the Vehicle Technologies Office's Idle Reduction webpage for links to more idle reduction resources, including an idling reduction savings calculator (xls calculator and printable pdf calculator), Locations of Electrified Parking Spaces, Status of the Weight Exemption for Idling Reduction Devices, and back issues of National Idling Reduction Network News. Other resources include IdleBox, an electronic, modular toolkit to facilitate idling reduction outreach and implementation, IdleBase, a database of idling regulations for all classes of on-road vehicles, and the Alternative Fuels Data Center idle reduction page.