The National Idling Reduction Network brings together trucking and transit companies; railroads; ports; equipment manufacturers; Federal, state, and local government agencies (including regulators); nonprofit organizations; and national research laboratories to identify consistent, workable solutions to heavy-vehicle idling for the entire United States. Below is the most recent issue; the archives are available on the Archives page.
Subscribe to the Newsletter
To receive NIRNN by e-mail monthly, please e-mail Patricia Weikersheimer or enter your email in the box on the right-hand side of the page. If you have news you believe would be of interest to newsletter readers, please send it to idlingreduction@anl.gov
February 2015 National Idling Reduction Network News: From the Editor
Tell Us What You Think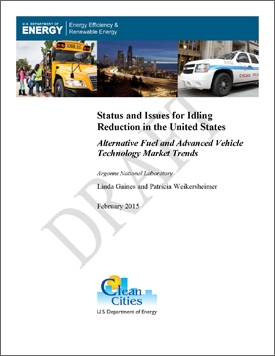 As we described in the December 2014 issue, DOE's Clean Cities program has promoted idling reduction since 2005. Periodically, the program brings its stakeholders together to help it create a strategy for the next several years for deploying alternative fuels, advanced vehicles, and fuel economy measures, such as idling reduction. At the 2009 strategy meeting, we released our first white paper, Idling: Cruising the Fuel InEfficiency Expressway, to describe the state of the industry at the time.
On February 25, 2015, the program staff met again with a large number of stakeholders to ask for suggestions about the future direction of the Clean Cities program over the next 5 years. DOE national laboratory staff prepared white papers on all of the program elements and made presentations that summarized their white papers. Afterwards, stakeholders met in small, facilitated groups to help DOE flesh out the strategy.
Find out more about the public meeting and read the accompanying white papers, including Status and Issues for Idling Reduction in the United States, on the Clean Cities strategic planning meeting website.
Terry M. Levinson, Editor
Energetics Incorporated
tlevinson@energetics.com
Patricia Weikersheimer, Writer
Argonne National Laboratory
pweikersheimer@anl.gov
Solicitations for Funding and Awards
Program (with link to website) — Organization — Funding Amount — Due Date (Information new since last month in boldface.)
Deadline in Chronological Order
First Come, First Served
Rolling Deadline Until Funds Are Awarded
Reports and Other Resources of Interest
Upcoming Meetings and Events
Name of meeting [with Link to Website] Date (Location) (Information new since last month in boldface.)
Manufacturers' News
Webasto SmarTemp Control Now Available Factory Installed
Webasto's SmarTemp Control, which works with Webasto's Air Top 2000 ST bunk air heater, will be available as a factory-installed option on the 2015 Freightliner Cascadia and Cascadia Evolution trucks beginning in March. The device allows drivers to access and adjust the heat or ventilation mode, continuous or timed runs, and preventative maintenance reminders, among other features. More information is available at Webasto's website.
HOTSTART Launches Two New Heaters
HOTSTART, manufacturer of diesel engine heaters, has added two new idle reduction systems to its offerings for use on locomotive, marine, and stationary land power equipment and heavy-duty vehicles. The DLV Coolant/Lube Oil Heating System heats and circulates both coolant and lubricant throughout the engine system. The CLV Coolant Heating System heats and circulates coolant throughout the engine. These electrically powered systems allow operators to shut down idling engines, reducing fuel consumption, emissions, noise, and engine wear. The HOTSTART website provides more information.
Electrified Parking Spaces
IdleAir Completing Two South Carolina Installations
Convoy Solutions, LLC, owner of IdleAir, is installing truck stop electrification (TSE) sites at two Pilot Travel Centers in South Carolina. The travel center in Duncan (Interstate 85) will be equipped with 24 TSE spaces, and the location in Latta (Interstate 95) will be equipped with 33 spaces. Installation is expected to be complete in March. The project is funded through a $2.07 million U.S. EPA Diesel Emissions Reduction Act (DERA) grant awarded in 2012 to the South Carolina Department of Health and Environmental Control. For more information, please go to GSA Business.
Other News of Interest
Settings Controlling Idling Are Engine Parameters Worth Optimizing
Trucking Efficiency, an initiative of the North American Council for Freight Efficiency (NACFE) and the Carbon War Room, has published a report on optimizing electronic engine parameters to achieve greater fuel efficiency in long-haul, heavy-duty trucks. According to Engine Parameters Worth Optimizing, adjusting these parameters, including settings related to idling, can lead to fuel economy improvements from 3% to 8%. Trucking Efficiency's Operation Lead, Mike Roeth, said, "Truck engines are like smart phones. Once you've gone through the effort of programming them, you love them." More information is available at Trucking Efficiency.