The National Idling Reduction Network brings together trucking and transit companies; railroads; ports; equipment manufacturers; Federal, state, and local government agencies (including regulators); nonprofit organizations; and national research laboratories to identify consistent, workable solutions to heavy-vehicle idling for the entire United States. Below is the most recent issue; the archives are available on the Archives page.
Subscribe to the Newsletter
To receive NIRNN by e-mail monthly, please e-mail Patricia Weikersheimer. If you have news you believe would be of interest to newsletter readers, please send it to idlingreduction@anl.gov
December 2014 National Idling Reduction Network News: From the Editor
For our continuing look back at how idling reduction has changed in the 10 years since we first published this newsletter, this month we'll see how DOE's Clean Cities program has measurably influenced the field of idling reduction. Local coalitions participating in the program have displaced over 30 million gallons of petroleum by supporting truck stop electrification projects, encouraging the installation of on-board equipment for several types of vehicles, and running idling reduction projects in their communities.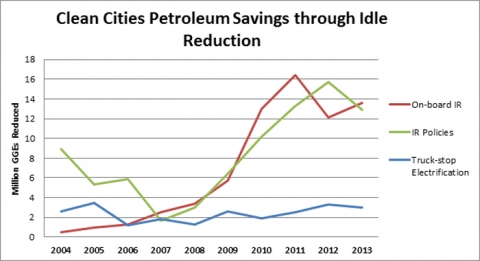 Source: www.afdc.energy.gov/data/?page=2
Clean Cities was established in 1993 in response to the Energy Policy Act of 1992 and is housed within DOE's Vehicle Technologies Office. Almost 100 Clean Cities Coalitions work with local and regional stakeholders to advance U.S. energy independence, support regional economic development, and reduce harmful vehicle emissions. The Energy Policy Act of 2005 gave Clean Cities the authority to work in idling reduction, although the chart shows that some activity had been going on before these activities were officially recognized.
Here are some examples of how Clean Cities coalitions have used private funding from local stakeholders as well as grants from DOE, DOT, and EPA to bring about change:
In 2009, Chicago Area Clean Cities worked with the City of Chicago to pass a 3-minute idling limit for all diesel-powered vehicles in the city. The coalition estimates cumulative savings from this ordinance to be the equivalent of the energy content in over 1.6 million gallons of gasoline (GGE) and over 20,000 tons of greenhouse gases.
Sacramento Clean Cities Coalition stakeholder and original founding member, Pacific Gas and Electric (PG&E), worked with Sacramento Clean Cities sponsor, Altec Industries, to install the Altec "JEMS" battery pack technology on a number of their aerial lift trucks. The Altec "JEMS" battery pack technology has provided confirmed savings of over 173,000 GGE and over 2,000 tons of greenhouse gases.
The Houston-Galveston Clean Cities Coalition reported that an IdleAir installation in Baytown, Texas, saved almost 44,000 GGE and 462 tons of greenhouse gases.
If you have any information you'd like to share with us on this topic, please let us know so that we can include your accomplishments in the newsletter.
Terry M. Levinson, Editor
Energetics Incorporated
tlevinson@energetics.com
Patricia Weikersheimer, Writer
Argonne National Laboratory
pweikersheimer@anl.gov
Solicitations for Funding and Awards
Program (with link to website) — Organization — Funding Amount — Due Date  (Information new since last month in boldface.)
Deadline in Chronological Order
First Come, First Served
Rolling Deadline Until Funds Are Awarded
Regulatory News
EPA Proposes Revision to Ozone Standard
The U.S. EPA is proposing to change the ozone standard from the current threshold of 75 parts per billion (ppb) to "within a range of 65 to 70 ppb." If the proposed standard is finalized, the agency estimates that each dollar invested will return up to $3 in health benefits, including the prevention of illness and premature deaths.
EPA is holding three public hearings early in 2015 and accepting public comments on the proposal through March 17, 2015. The agency will issue final ozone standards by October 1, 2015. For more information, please go to EPA's website.
NCTCOG's Revised Clean Fleet Resolution Supports Idle Reduction
The Regional Transportation Council of the North Central Texas Council of Governments (NCTCOG) has approved a resolution supporting the adoption and implementation of a revised Clean Fleet Policy for fleet operators in NCTCOG's ozone nonattainment area. Provisions include the implementation of an idle-reduction policy and the use of idle-reduction technologies. More information is available at NCTCOG's website.
Awards and Recognition
Awardee — Source of Award — Purpose of Award — Award Amount
Crestwood Local Schools (Portage County, Ohio) — Ohio EPA — Installation of anti-idling equipment on 6 school buses — $20,598

Maple Heights City Schools (Cuyahoga County, Ohio) — Ohio EPA — Installation of emission-control equipment and anti-idling equipment on 17 school buses — $78,859

Sandusky City Schools (Erie County, Ohio) — Ohio EPA Installation of anti-idling equipment on 30 school buses — $73,623

53 Wisconsin-based motor carriers — Wisconsin State Energy Office — the purchase and installation of idle reduction equipment — nearly $1 million
Reports and Other Resources of Interest
The Biggest Winter Energy Myth: That You Need To Idle Your Car Before Driving (Washington Post)

Busting the Myth that Idling Uses Less Fuel Than Restarting the Engine (Massachusetts Department of Energy Resources and Clean Cities)

How To Create a Sustainable Green Fleet Policy (Green Fleet)

HTUF Webinar: How To Tap into Funds for Clean Fleets (CALSTART)
Upcoming Meetings and Events
Name of meeting [with Link to Website] Date (Location) (Information new since last month in boldface.)
Electrified Parking Spaces
Con-way Truckload Installs IdleAir at Laredo Terminal
Con-way Truckload has opened a dedicated IdleAir facility at its Laredo, Texas, terminal. With 19 spaces, the site provides drivers with engine-off in-cab services, including HVAC, 120-V electricity, an Internet connection, and DIRECTV, at no cost to company drivers and contractors. According to a Con-way press release, the company is already saving more than 4,000 gallons of fuel a month and intends to add IdleAir installations at other terminals in 2015. More information is available on Con-way's website.
Telematics
Comcast Slashes Idling with Telematics
Comcast has deployed a GPS fleet-management solution that, combined with targeted employee incentives, has cut idle time nearly in half, according to an article in Field Technologies Online.
Using this technology, the company learned that technicians were idling an average of 1 hour and 45 minutes a day. Now, technicians are idling less than 50 minutes a day on average, saving the company millions in fuel costs.
Comcast chose the SageQuest Mobile Control fleet management system after launching several pilots with different vendors in different regions. More information is available at Field Technologies Online.
Uniform and Linen Service Puts a Big Dent in Idling
After implementing an idling-reduction pilot in March 2014 with the help of the environmental nonprofit Sustainable America, Crown Uniform & Linen Service learned that its drivers idled their vehicles an average of 70 minutes a day. According to Business Fleet, the company, which is headquartered in Brockton, Massachusetts, found that many of its drivers left their engines running while making deliveries or even fueling their vehicles.
Dave Hardy, Crown's fleet supervisor, used Geotab telematics software to develop a daily tracking and reporting system. If drivers idled for more than 10 minutes a day, managers would talk with them to emphasize the importance of turning off the engine between deliveries. According to Mr. Hardy, the tracking and coaching have resulted in a decrease in average idling times from 70 minutes daily to 7 minutes daily.
More information is available at Business Fleet.
Other News of Interest
DERA Funding Boosted 50% for FY15
On December 16, President Obama signed an appropriations bill that includes a 50% funding increase—from $20 million to $30 million—for Diesel Emissions Reduction Act (DERA) projects in fiscal year (FY) 2015. More information is available at DieselNet.