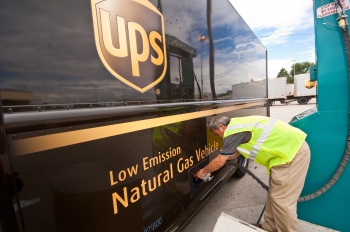 A UPS delivery truck is refueled with compressed natural gas. UPS plans to deploy 1,000 liquefied natural gas vehicles. | Photo by Pat Corkery, National Renewable Energy Laboratory
Delivering nearly 17 million packages a day worldwide, United Parcel Service (UPS) heavily relies on its vehicle fleet of nearly 100,000 cars, vans, tractor trailers, and motorcycles. While more than 3,600 of these vehicles already run on alternative fuel or are advanced technology vehicles, the Energy Department's Clean Cities program is working with UPS to expand that number.
In fact, by the end of 2014, UPS plans to deploy 1,000 liquefied natural gas (LNG) trucks, which—according to the company— would make it the most extensive private LNG fleet in the U.S. In parallel, UPS is investing approximately $68 million to build 13 new fueling stations that dispense LNG. 
UPS decided to dedicate funding to these efforts because of the lessons learned through its relationship with Clean Cities. UPS was a major partner in the Southern California Association of Governments' Clean Cities project, which was funded through the American Recovery and Reinvestment Act. With the support of this project, UPS purchased 48 LNG heavy-duty vehicles and installed a public LNG station in Las Vegas. This station helped complete a 700-mile LNG fueling corridor that runs through California to Nevada and serves some of the most heavily traveled truck routes in the country. In addition to UPS's trucks, this public station will enable far more travel using LNG vehicles between Los Angeles; Ontario, California; and Las Vegas than was previously possible. UPS also received support through the Utah Clean Cities' Recovery Act project, which funded partially the purchase of 34 LNG vehicles. UPS's future plans will build upon these vehicles and stations, as well as 30 LNG vehicles and two stations independently funded by the company.
While LNG is an important part of its strategy, UPS is also looking at a variety of other options with the help of the Clean Cities' National Clean Fleets Partnership. UPS is a founding member of the Partnership, which provides the nation's largest fleets with resources, expertise, and support to incorporate alternative fuels and fuel-saving measures into their operations. In addition to natural gas, UPS also operates trucks on propane and electricity and runs vehicles using hybrid electric and hydraulic hybrid technology. 
While UPS logged more than 55 million miles in 2013 using alternative fuel and advanced vehicle technology vehicles, the company expects that number to keep climbing. With the help of Clean Cities, UPS is well on its way to delivering on its goal of driving more than a billion miles on alternative fuels by the end of 2017.  Learn more about how Clean Cities' coalition partners are advancing the nation's economic, environmental, and energy security.