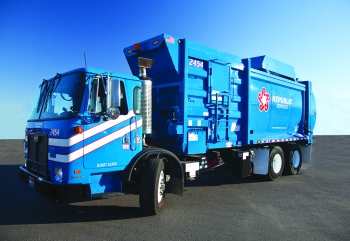 Republic Services is one of three new companies participating in the National Clean Fleets Partnership. The company aims to have more than 2,500 trucks running on alternative fuel by 2015. | Photo courtesy of Republic Services
From picking up our recyclables to fixing our cable, vehicle fleets help keep our society running—and an increasing number are doing so sustainably.  The Department of Energy's National Clean Fleets Partnership helps the country's largest fleets reduce their petroleum use by switching to alternative fuels, adopting advanced technology vehicles, reducing their idling, and implementing other fuel saving techniques.  As part of the Clean Cities program, which works with nearly 100 local coalitions, the National Clean Fleets Partnership complements the coalitions' regional efforts to reduce petroleum in transportation.  Today, at an event organized by the Iowa and Twin Cities coalitions, the Energy Department welcomed three new fleets to the Partnership:  Republic Services, Time Warner Cable, and CHS.
With more than 2,200 waste and recycling vehicles already running on alternative fuels, Republic Services is off to a great start.  The company also demonstrated leadership in the sustainability field through the construction of Idaho's first public compressed natural gas (CNG) fueling station.  Republic is currently constructing CNG fueling stations in Arizona, California, Florida, Indiana, Louisiana, Missouri, and North Carolina.  By connecting Republic to similar fleets, mapping out potential station locations, and providing other technical assistance, the National Clean Fleets Partnership hopes to help Republic Services meet its goal of having more than 2,500 trucks running on alternative fuel by 2015.
In a connected world, it's more important than ever that Time Warner Cable's vehicles are economically and environmentally sustainable.  Fortunately, Time Warner Cable has already "right-sized" many of its vehicles, ensuring that each one is no bigger or more powerful than necessary.  By adopting small hybrids as its standard passenger car, Time Warner Cable improved its fuel economy by more than 30% .  This one change saves 360,000 gallons of gasoline a year, which is about the same as taking 700 cars off of the roads.  In 2013, Time Warner Cable also introduced 156 lightweight diesel bucket vehicles and continued its progress in 2014 by introducing an additional 380 trucks of this style.  While the company's legacy trucks average 5.6 mpg, the light-body diesels average 8.4 mpg, for a forecasted reduction of 500,000 gallons of fuel per year. The National Clean Fleets Partnership will work with Time Warner Cable to meet its environmental goals by further reducing the fleet's fuel use and carbon pollution.
By its very nature as a producer and distributor of alternative fuels, CHS is already helping vehicle fleets minimize their use of petroleum.  As part of its business producing and marketing ethanol, CHS is the largest retailer of E85 (a blend of up to 85% ethanol with gasoline) in the country.  It is also a major propane wholesaler, providing propane to stations and fleets.  With about 1,400 retail fueling outlets, CHS has the potential to greatly increase the number of fueling stations selling alternative fuels to the public and fleets.  The National Clean Fleets Partnership will work with CHS to maximize alternative fuels sales at stations, as well as investigate new opportunities in this area.
By finding the petroleum reduction solutions that best suit their business' needs, members of the National Clean Fleets Partnership lower fuel costs, reduce harmful environmental impacts, and improve our nation's energy security. Learn more about the National Clean Fleets Partnership.