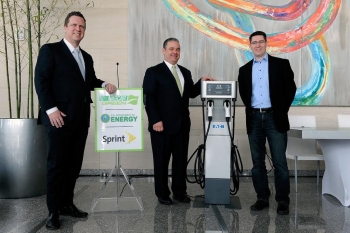 Assistant Secretary for Energy Efficiency and Renewable Energy David Danielson (from left); Mike Lynch, NASCAR Vice President of Green Innovation; and Darren Beck, Sprint Director of Environmental Initiatives stand next to a charging station at NASCAR's office in Charlotte, North Carolina. NASCAR and Sprint are now participating in the Workplace Charging Challenge. | Photo courtesy of NASCAR
The EV Everywhere Grand Challenge is the Energy Department's 10-year vision to enable the U.S. to be the first nation in the world to produce plug-in electric vehicles that are as affordable for the average American family as today's gasoline powered vehicles by 2022. This Challenge is bringing together America's best and brightest scientists, engineers, and businesses to work collaboratively to make plug-in electric vehicles less expensive and more convenient to own and drive. Follow this series to learn about just a few examples of how this vision is becoming a reality.
Today, at NASCAR Plaza in Charlotte, North Carolina, Assistant Secretary for Energy Efficiency and Renewable Energy David Danielson welcomed NASCAR and Sprint to the growing list of employers participating in the EV Everywhere Workplace Charging Challenge to help build the nation's plug-in electric vehicle (PEV) charging infrastructure.
As part of their commitment to the Workplace Charging Challenge, NASCAR revealed five newly installed charging stations for employee use. NASCAR now has a total of 20 such stations throughout the country at its facilities. Sprint plans to install 14 charging stations at their headquarters in Overland Park, Kansas in March, each with the capacity to charge two cars at once. The stations will be available to Sprint employees, contractors, campus tenants, and visitors, and four will be available for public use. Since most people park their vehicles for hours at a time while at work, these charging stations can potentially double PEV drivers' all-electric driving range.
This deployment of PEVs requires a team effort. In addition to the work of employers like NASCAR and Sprint, the Energy Department provides technical assistance and resources that can help employers establish workplace charging programs. Regional groups such as North Carolina's Clean Cities coalitions, along with groups like Workplace Charging Challenge Ambassador Advanced Energy, help their local communities prepare for PEVs and charging infrastructure. Thanks in part to these collaborative efforts, the state is seeing the first installation of DC Fast Chargers, which can fully charge a PEV in 30 minutes or less. Through partnership with local government, six of these units are scheduled for installation in greater Charlotte this spring.
NASCAR's participation in the Workplace Charging Challenge is the latest example of its ongoing efforts to support sustainable transportation. In September 2013, NASCAR and the Department of Energy signed a Memorandum of Understanding at the NASCAR Green Summit in Chicago, outlining their commitment to adopt clean energy technologies and limit carbon pollution. Just two weeks ago, DOE announced a five-year partnership to continue the Green Racing initiative with the International Motor Sports Association, which is owned by NASCAR Holdings.
After launching the Workplace Charging Challenge with 13 partners in January 2013, the Energy Department now partners with more than 55 employers at more than 150 worksites. Collectively, these partner employers represent more than one million employees across the country. View an interactive map of current partners and email our Workplace Charging Challenge team at WorkplaceCharging@ee.doe.gov to find out how your organization can participate.