Ali Zaidi, Deputy Director for Energy Policy, The White House Domestic Policy Council delivers keynote at the 2014 SunShot Grand Challenge Summit. | Photo courtesy of the SunShot Initiative.
At the peak of the SunShot Grand Challenge Summit, an all-star lineup of speakers kicked off the third day, jam-packed with discussions and idea-generating activities to help solve some of the toughest problems in solar energy.
SunShot Initiative director Minh Le anchored the morning session by highlighting the industry's progress, in only three years, toward the SunShot 2020 affordability goal. He called on the audience – business leaders, researchers, academics, and entrepreneurs – to "develop innovative approaches to help achieve the final 40% to cost competitive solar in the U.S."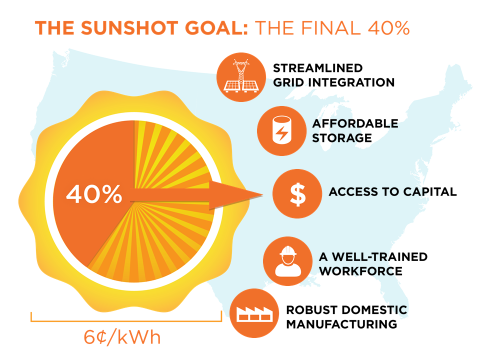 Several government leaders, from congressional policymakers to energy experts across the Administration, delivered inspiring and thought-provoking remarks to a packed, attentive house of Summit attendees. A few highlights of the morning plenary include:
Adding to the day's excitement, the Energy Department made two announcements to drive down solar energy costs. To reduce solar soft costs, the SunShot Catalyst prize challenge will leverage the reach and power of online crowdsourcing to generate ideas, spur business innovations, and develop prototypes that address near-term challenges in the U.S. solar marketplace. This new prize aims to tackle market barriers and address technical problems that can be solved through automation, algorithms, data, and software.
The Department also announced $10 million for six new R&D projects that will advance ground breaking concentrating solar power (CSP) technologies. The projects will develop thermochemical energy storage systems to enable more efficient storage of solar energy while using less storage material, cutting the cost for utility-scale CSP electricity generation in the U.S.
Building on the momentum, Summit attendees shuffled between 16 grand challenge breakout sessions in the afternoon to drill down on a wide range of solar energy issues—from solar soft costs, to challenges and opportunities in CSP, to creative business models that will help the solar market thrive without incentives.