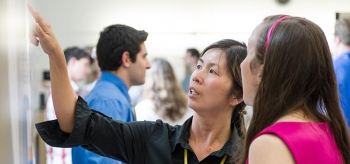 Photo courtesy of Dennis Schroeder, NREL 27311
A large part of EERE technology deployment depends on the United States's ability to innovate, produce, install, maintain, and service advanced energy technologies. The Office of Energy Efficiency and Renewable Energy's (EERE) education and workforce development activities support the market deployment of EERE technologies by focusing on further development and enhancement of these critical workforce skills as well as engaging and inspiring the future workforce.
Learn more on EERE's Energy Education and Workforce Development website.
Education Blog
January 23, 2014

Competition aims to cultivate wind-specific interests and skills among the next generation of industry leaders, will feature 10 teams of students throughout the country who will design and construct lightweight, portable wind turbines intended to

January 15, 2014

Dr. Adam Weber of the Energy Department's Lawrence Berkeley National Laboratory was recently honored for his cutting edge work to help make hydrogen fuel cells and their components more efficient and durable. Dr.

December 24, 2013

Members of the Energy Department's Education & Workforce Development team recently visited a middle school in Maryland to teach students about renewable energy and sustainability.

December 18, 2013

In 2013, the Energy Education & Workforce Development team worked with schools, non-profits, and non-governmental organizations to inspire students to understand energy's role in their lives and the world.

November 5, 2013

As part of the US Ignite project, the Energy Department worked with Mozilla to create free and open source simulations of the solar system and the surface of Mars.