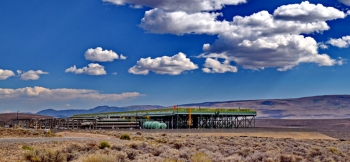 The McGuiness Hills Geothermal Power Plant in Lander County, Nevada generates 30 MW and has been in operation since 2012 | photo courtesy of Geothermal Resources Council
In support of a low carbon future, the United States Department of Energy today announced up to $18 million for 32 projects that will advance geothermal energy development in the United States. The selected projects target research and development in three technology areas: advancing subsurface analysis and engineering techniques for enhanced geothermal systems (EGS), applying a mapping approach called play fairway analysis to discover new hydrothermal resources, and accelerating extraction technologies to unlock domestic supplies of critical and other  high-value materials like lithium while further developing low- to moderate-temperature geothermal resources. As part of the Department's all-of-the-above energy strategy, these projects will accelerate technological advancement and economical deployment of geothermal resources.
To view selected projects in the three technology areas, click on the links below:
Integrated EGS R&D
Play Fairway Analysis
Low-Temperature Mineral Recovery Program
See the full story.
View the presentation
Office Director Doug Hollett at the National Geothermal Summit, August 6, 2014    
Learn more about how geothermal energy works.