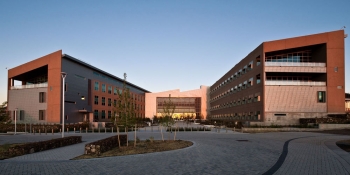 The Federal Energy Management Program provides strategies, best practices, and resources to help federal agencies implement sustainable design practices within federal buildings and campuses.
Sustainable building design and operation strategies demonstrate a commitment to energy efficiency and environmental stewardship. These approaches result in an optimal balance of energy, cost, environmental, and societal benefits, while still meeting the agency's mission and the building's function.
For buildings and facilities, responsible resource management and the assessment of operational impacts encompass the principles of sustainability. Sustainable development aims to meet the needs of the present without compromising future needs.
Get Started
Start implementing sustainable design practices by learning about:
Information about the Interagency Sustainability Working Group is also available.
What Success Looks Like

Read a case study about a General Services Administration building that aligned historic preservation renovations with net-zero energy goals.