The Federal Energy Management Program (FEMP) offers specialized training about federal energy savings performance contracts (ESPCs).
In-Person, On-Site ESPC Workshops
Agency ESPC acquisition teams that train together are more likely to stay on track and implement high-value ESPC projects.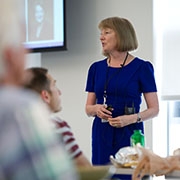 FEMP strongly recommends that agency acquisition teams take advantage of FEMP's free ESPC workshops because they offer agencies the opportunity to receive answers to questions about their own specific projects. FEMP offers the following in-person, on-site training opportunities:
ESPC Comprehensive Workshop: This three-day workshop covers the entire ESPC process and introduces measurement and verification (M&V). This workshop uses examples of actual contract documents and exercises to teach participants about the details of ESPC project procurement. Workshops are held four times per year in locations across the country. Check the FEMP Training Search to see if dates are scheduled.

On-Site Training Customized for Agency Groups: This workshop, which is arranged by a federal project executive, is customized to meet agency needs and can range from a one- or two-hour executive summary for upper management to a four-hour, one-day, or two-day workshop. Contact a federal project executive to schedule this training at your organization.
On-Demand Training
FEMP offers the following on-demand, online training courses and webinars through the FEMP Training Search.