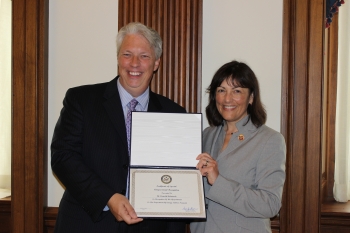 Ronald J. (R.J.) McIntosh receives a Certificate of Special Congressional Recognition from Rep. Suzan DelBene of Washington. | Photo courtesy of Rep. Suzan DelBene's office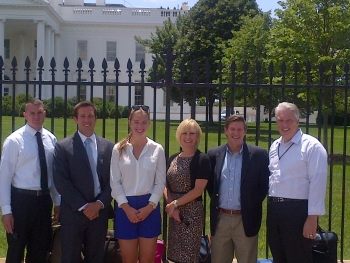 Six of the eight FEMP veteran internship program participants stand outside of the White House in Washington, D.C. | Energy Department photo
Veterans are uniquely positioned to tackle complex energy challenges when they transition back to the workforce. Incredibly goal-oriented, adaptive and effective in managing long-term projects, former service members are accustomed to producing high-quality work with a focus on commitment to excellence.
The Energy Department's Federal Energy Management Program (FEMP) internship program is connecting this top talent with agencies throughout the federal government, giving veterans a chance to hone their skills and experience. This contributes to building a clean energy economy.
Currently eight veteran interns are involved in the Energy Department's Scholars Program through the Oak Ridge Institute for Science and Education.  Working in close collaboration with their supervisors, these veterans help the Energy Department, Department of Veterans Affairs, Department of Transportation, Department of Defense, General Services Administration, and other agencies address energy management goals.
These are not your typical college level interns—these men and women bring with them years of experience and specialized skills from their time in the military, as well as previous, diverse educational background to the agencies where they work.
Some of the projects U.S. military veterans are working on include:
A specialized dashboard to help DOE sustainability managers monitor projects and goal performance;
An evaluation of water consumption estimation methodologies;
A submeter survey for General Services Administration buildings; and
A study on energy saving performance contracts (ESPC) to identify how energy service companies and Defense Department Installations select technologies for ESPC implementation.
The on-the job training these interns receive will help make their transition from the classroom to the field seamless. The hard work and dedication is already paying off with some interns earning jobs or extensions from agencies they previously served in.
Former army intelligence officer Ronald J. (R.J.) McIntosh is making a big impact this summer with dual internships at the Energy Department and the Department of Veteran Affairs (VA).  McIntosh's projects include tracking FEMP projects and developing strategic guidance for field energy managers across the federal government. He's also working on the VA's Strategic Capital Investment Plan.
In recognition of his efforts, Rep. Suzan DelBene awarded McIntosh a Certificate of Special Congressional Recognition for his work and recognized him as the first Washington state resident to participate in the Veteran Scholars Program.
McIntosh and other veterans like him are helping agencies throughout the federal government reduce energy use and slash carbon pollution by bringing FEMP's resources and know-how directly to the agency.  Learn more about FEMP's work, which enables federal agencies to meet energy-related goals and provide energy leadership to the country.