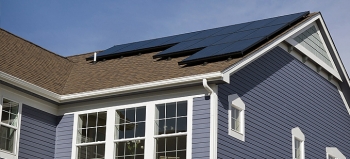 EERE leads a robust network of researchers and other partners to continually develop cost-effective energy-saving solutions that help make our country run better through increased efficiency — promoting better plants, manufacturing processes, and products; more efficient new homes and improved older homes; and other solutions to enhance the buildings in which we work, shop, and lead our everyday lives.
 The U.S. Department of Energy (DOE) improves home energy performance by developing and demonstrating advanced energy efficiency technologies and practices that make homes in the United States more efficient, affordable, and comfortable. DOE partners with state governments, local governments, utilities, and non-profit organizations to encourage homeowners to perform building science-based energy upgrades to their homes, ultimately helping American families and businesses reduce their energy bills.
Weatherization saves eligible families hundreds of dollars on their heating and cooling bills in the first year alone, reducing the nation's energy bills by more than $2 billion annually. Weatherization programs have also trained more than 200,000 American workers, boosting their eligibility for jobs and helping to grow the clean energy workforce.
The Building Technologies Office leads a network of research and industry partners to continually develop innovative, cost-effective energy-saving solutions for homes and buildings.
The Weatherization and Intergovernmental Programs Office provides funding and assistance to partners in state and local governments, Indian tribes, and international agencies for their energy programs, including weatherization programs that enable low-income families to reduce their energy bills by making their homes more energy efficient.
EERE'S WORK IN RESIDENTIAL BUILDING EFFICIENCY