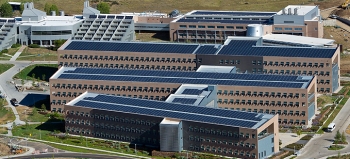 EERE leads a robust network of researchers and other partners to continually develop cost-effective energy-saving solutions that help make our country run better through increased efficiency — promoting better plants, manufacturing processes, and products; more efficient new homes and improved older homes; and other solutions to enhance the buildings in which we work, shop, and lead our everyday lives.
The U.S. Department of Energy's Federal Energy Management Program (FEMP) plays a critical role in reducing energy use and increasing the use of renewable energy at federal agencies. With more than 350,000 energy-using buildings and structures and 600,000 road vehicles, the federal  government is the nation's largest energy consumer.
Since 1975, the federal government has decreased the energy intensity of its buildings by more than 40%. Federal agencies have an opportunity and obligation to also reduce greenhouse gas (GHG) emissions in their operations and provide energy management leadership to the nation. FEMP's goals include helping agencies reduce GHG emiissions by 40% by fiscal year 2025 compared to fiscal year 2008 and ensure that at least 30% of federal electriicty consumpion is generated from renewable sources by 2025.
FEMP provides agencies and organizations the information, tools and assistance they need to achieve their energy-related requirements and goals. This includes helping federal agencies with project financing mechanisms, including energy-saving performance contracts (ESPCs). In an ESPC, a contractor pays the up-front cost of improvements and is repaid through a portion of the energy savings.
Since the inception of ESPCs in 1998, more than $4 billion has been invested in federal energy efficiency and renewable energy improvements. These improvements have resulted in more than 400 trillion But in life cycyle energy savings and more than $9 billion in cumulative energy cost savings for the federal government. 
FEDERAL, STATE, LOCAL, AND TRIBAL ENERGY MANAGEMENT
Federal Energy Management
Services, tools, and expertise to help federal agencies achieve energy efficiency, greenhouse gas reduction, and water goals
Weatherization and Intergovernmental
Formula grant funding and technical assistance for state and local governments to manage weatherization and clean energy programs
Energy Efficiency and Renewable Energy in the States
Renewable energy resource maps and energy information organized by state
Tribal Energy
Financial and technical assistance to tribes to reduce their energy consumption
Clean Cities
Reducing petroleum use in community vehicle fleets
Sustainability Performance
Leading the Department of Energy's sustainability efforts by example by enhancing efficiency gains, expanding clean energy, evolving sustainable campuses, and engaging employees and the DOE community