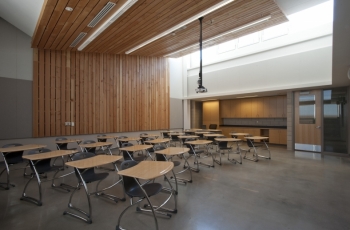 The Energy 101 initiative supports ongoing efforts in energy education. The first webinar of the Energy 101 dialogue series will focus on energy in the classroom. | National Renewable Energy Laboratory photo
Energy plays a major, but often invisible, role in nearly every aspect of our lives. To ensure that our nation's college and university educators have the resources they need to teach multidisciplinary energy concepts and strengthen America's future technical workforce, the Energy Department established the Energy 101 initiative. The initiative supports ongoing efforts in energy education, with the ultimate goal of improving energy literacy across the board, enabling citizens to make better-informed energy decisions.
An initial component of this effort is the Energy 101 framework, a semester-long energy basics course outline that explains how energy is a fundamental element of our physical world, encompassing scientific, technological, and societal aspects. This interdisciplinary approach captures the diverse interests of students and exposes them early in their academic careers to the fields of energy and STEM (science, technology, engineering and math).
The framework is the result of public comment and expert review, and is informed by models of similar "Introduction to Energy" course outlines from universities and colleges across the country. Our Energy 101 framework has already proven to be an effective tool for teaching important energy concepts.  Last year, the University of Maryland created a pilot energy fundamentals course using the framework, as well as an energy-based math course for veterans and active duty military personnel.
Participate in the Energy 101 Dialogue Webinar Series
In pulling together the Energy 101 framework, we uncovered a burgeoning ecosystem of outstanding efforts in energy education already underway in the nation's universities and community colleges. With the Energy 101 dialogue series, we seek to learn from this ecosystem to:
Identify best practices surrounding teaching energy in the post-secondary setting,
Amplify those best practices,
Support the creation of a community of practice of energy education experts.
On Thursday, we will host the first webinar in this series, Energy in the Classroom, which will concentrate on issues related to teaching energy fundamentals in the first two years of post-secondary education. It will feature presentations from energy education subject matter experts, followed by a group discussion about common obstacles and best practices. Register now for this webinar.
Connect With Us
Visit the Energy 101 dialogue website to register for upcoming webinars and learn more about the series. We are interested in hearing about your energy educational efforts in the post-secondary setting. Visit the Energy 101 website to get involved.