Timothy J. Meeks - Field Operations Division Director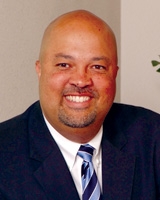 Tim Meeks is currently the Field Operations Division Director. The office supports and implements policies and mission objectives directed by the Office of Energy Efficiency and Renewable Energy in Washington, D.C., including the research, development, commercialization, and deployment of clean energy technologies. Additionally, Golden manages and administers the contract for the National Renewable Energy Laboratory, the only national laboratory dedicated solely to renewable energy and energy efficiency research and development.
As Deputy Director, he assists in managing a staff in technical and management divisions such as human resources, information technology, communications, environment, employee safety and health, and laboratory operations. He also leads quality control and strategic planning initiatives in support of increasing the nationwide use of clean energy.
His current position complements nearly three decades of expertise in the federal electrical utility industry. He began his career with the federal government in 1982 as an electrical engineering student in Folsom, California, at the Sierra Nevada Regional Office of Western Area Power Administration (Western). An Energy Department agency, Western markets and delivers federal hydropower to more than 750 wholesale customers across 15 states from 56 federally-owned dams.
He later worked as a Maintenance Manager for the Sierra Nevada office and Assistant Administrator for Power Marketing Liaison in Washington, D.C., and as Western's Chief Operating Officer in Lakewood, Colorado. From 2007 to 2012, Mr. Meeks was Western's fifth Administrator and worked closely with a diverse base of electric utility customers to market and deliver cost-effective hydropower from federally-owned dams. With the signing of the Recovery Act in 2009, his responsibilities broadened to include partnering with new customers to bring energy to market.
Tim earned a bachelor's degree in electrical and electronics engineering from California State University at Sacramento and a master's degree in engineering management from the University of Colorado at Boulder. A registered professional engineer in California, he is a member of the Institute of Electrical and Electronics Engineers and Tau Beta Pi Engineering Honor Society.