Douglas Kaempf - Chief Operating Officer, Business Operations (Acting)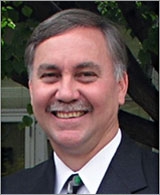 As Acting Chief Operating Officer the Office of Energy Efficiency and Renewable Energy (EERE), Doug Kaempf oversees the Golden Field Office and leads information technology support to enhance the efficiency and effectiveness of internal business systems. Under his leadership, EERE collaborates with e-government and program management systems that help manage EERE's technology research, development, and deployment programs and its portfolio of projects with the objective of achieving the goal of rapid and successful commercialization of EERE technologies. This foundation is comprised of meaningful portfolio management support, enterprise compliance, and an agile information technology suite of tools.
Prior to his current role, he served as program manager for the industrial technologies and biomass programs at DOE. He also has held federal and civilian positions in the nuclear materials and electric generation industries. He joined DOE in 1991 and has more than 30 years of process industry experience, including 12 years in the electric power industry.
He earned a Bachelor of Science in Electrical Engineering from Penn State University and a Master of Science in Technology Management from the University of Maryland.