Bindu Jacob - Director of Business Operations (Acting)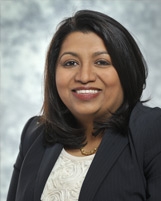 Bindu Jacob is EERE's Acting Director of Business Operations. She also serves as the Budget Advisor for Assistant Secretary Dave Danielson.
In her current position, she is responsible for managing the daily operations of EERE's major functions, including the Project Management Coordination Office, the Golden Service Center, the Workforce Management Office, and the Information Technology Services Office. She also ensures that EERE's strategic organizational efforts are aligned, effective, and responsive to the organization's needs.
She also continues to serve as a senior advisor to EERE's leadership team, providing executive-level guidance on budget formulation and execution strategies in developing and justifying EERE budget requests. In addition, she responds to congressional and White House inquiries and prepared the Assistant Secretary for budget hearings and congressional committee inquiries. 
Her prior experience as Acting Director of EERE's Information and Business Management office will also serve her well in her new position. In that former role, she led cross-cutting IT reform initiatives and provided overall direction to the business management and information management teams, building upon her post-graduate career as an information technology and management consultant to EERE since 1999. 
Since joining the Department of Energy in 2009, she has held progressively higher-level positions. In those positions she developed reporting frameworks and the IT infrastructure to improve data collection and analysis and served on the management team of the Office of the Chief Financial Officer's Office of Budget. This experience built upon her tenure on the President's Management Advisory Board, which is comprised of private sector CEOs who advise the President and Executive Branch agencies on how to close the gap between private and public sector performance through the adoption of industry best practices for improving efficiency, effectiveness and quality of service.
She has a bachelor's degree in economics from George Mason University in Fairfax, Virginia and a master's of information technology from the American Intercontinental University in Washington, D.C.