The Lawrence Berkeley National Lab

The Building Technology and Urban Systems Department (BTUS) at the Lawrence Berkeley National Lab (LBNL) works closely with industry to develop technologies for buildings that increase energy efficiency, and improve the comfort, health, and safety of building occupants.
LBNL manages the development of the SEED™ platform in support of the Department of Energy, including managing the software development and distribution through an open-source project, user engagement, and outreach.
Building Energy

Designed to enable transformational improvements in building energy efficiency, Building Energy enables business managers to quickly integrate their data from disparate sources and discover opportunities for improvement.
Building Energy Inc. is the software developer of SEED™ v1.0 and v1.1. Building Energy's SaaS platform is built on an open source code base and designed so that services and apps such as SEED may be developed globally to solve specific problems using objective data and shared best practices.
Institute for Market Transformation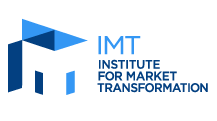 IMT is a non-profit that promotes energy efficiency in buildings. Its national activities include efforts that contribute to important new policy outcomes and widespread changes in practice that benefit the economy and the environment.
With deep knowledge of policy implementation, IMT is providing strategic guidance on the critical issues end users face in managing building energy efficiency policies and programs, which will help ensure SEED™ will be a successful tool to support efforts to increase the energy efficiency of the built environment.