The Home Energy Score is similar to a vehicle's miles-per-gallon rating. The Home Energy Score allows homeowners to compare the energy performance of their homes to other homes nationwide. It also provides homeowners with suggestions for improving their homes' efficiency.
The process starts with a Home Energy Score Assessor collecting energy information during a brief home walk-through. Using the Home Energy Scoring Tool, developed by the Lawrence Berkeley National Laboratory, the Assessor scores the home on a scale of 1 to 10. A score of 10 indicates that the home has excellent energy performance. A score of 1 indicates the home needs extensive energy improvements.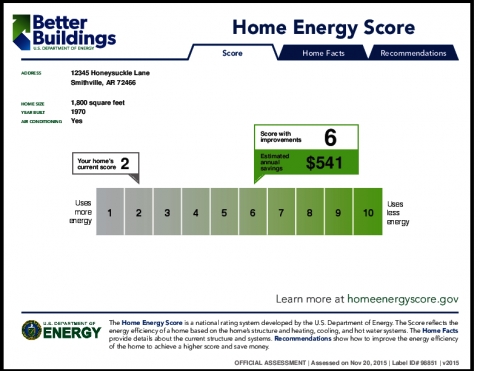 To see a complete Home Energy Score, including Home Facts and Recommendations, view the Home Energy Score Sample Report.
The Home Energy Score label lists:
The home address
Home size in square feet, defined as the total interior space that is heated or cooled
Whether air conditioning is used
The year the home was built
Current home energy score, defined as the home's energy performance based on its current condition
Home energy score after upgrades are made
The estimated 10-year savings in utility bills after making all recommended improvements.