Version 1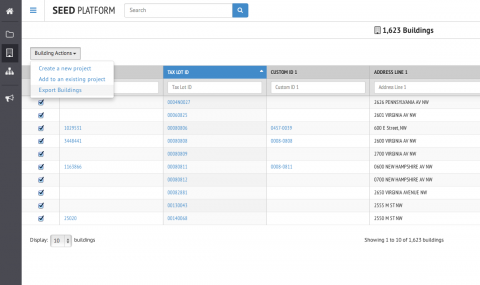 SEED™ V1.0 offers the following functionalities:
Create an account
Upload a spreadsheet export of ENERGY STAR Portfolio Manager data
Map, clean and merge a .CSV file and import data into SEED
Reconcile and match records from different sources
Sort, filter and do basic search on the buildings list
View Building Details, including information over time and multiple values for given data source (e.g., square footage)
Edit/save building records at the individual data field level
Label and group records
Create a new project based on sorted/filtered list (e.g. 2012 Benchmarking Covered Buildings)
Use filters to determine which records do and do not meet a minimum set of data quality or program compliance checks
View a status/dashboard page of the master list of buildings
Export selected records or groups of records as a .csv
Open source code
Ability to host software on the cloud or the user's servers.
VERSION 1.1 – SUMMER 2014
SEED™ V1.1 will be released in the summer of 2014 and will round out the V1 development to ensure that SEED is a complete, free, open-source, stand-alone system.  V1.1 functionalities include
Multiple levels of user access control
Import data via the Application Programming Interface (API)
Audit trail to show history of data edits
Ability to add comments and annotations on individual records
Improved error reporting, help screens & documentation
Ability to add new data fields and define their format
Export Data in multiple formats
Define fields and records that can be viewed publicly or by authorized parties through the API
One-click export to Buildings Performance Database
Ability to host multiple organizations within one SEED instance
Plug-in framework for third-party software extensions
SEED can run on Linux or Windows servers
FUTURE DEVELOPMENT
Future SEED™ development will be driven by the interest in its adoption for applications beyond the original use for benchmarking and disclosure program implementation. The core, publicly-funded open source software will remain focused on supporting data cleansing, management and sharing, and ensuring interoperability with other federal software tools, such as the EPA's ENERGY STAR Portfolio Manager and the DOE's Commercial Building Energy Asset Score and Home Energy Score. In addition, one of the goals of the SEED project is to support the growth of a community of software developers that contribute to the open source code base and/or offer proprietary add-ons and modifications.  This could include data collection, analysis, visualization, and a wide range of other functionalities.
APPLICATION HOSTING
To help promote its early adoption and use, the U.S. Department of Energy is currently providing free hosting for SEED™. While the software itself will always be free, starting in a few months users will need to arrange for their own web hosting and data storage. In other words, users will need to decide where to put their copy of SEED. Several options for hosting the SEED software will be available, including installing it on an organization's own servers, utilizing cloud hosting providers, or hiring a software company to provide "SEED-as-a-service" including hosting and any add-on functionalities.  The DOE will be developing user guides and providing tech support to help users transition SEED to their chosen data storage solution.