Information from energy simulation software is critical in the design of energy-efficient commercial buildings. The tools listed on this page are the product of Commercial Buildings Integration Program (CBI) research and are used in modeling current CBI projects. Modeling helps architects and building designers quickly identify the most cost-effective and energy-saving measures.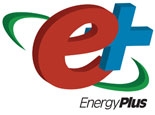 EnergyPlus — An award-winning new-generation building energy simulation program from the creators of BLAST and DOE-2. EnergyPlus models heating, cooling, lighting, ventilating, water, and other energy flows in buildings.
OpenStudio — A free plugin for the SketchUp 3D drawing program. The plugin makes it easy to create and edit the building geometry in your EnergyPlus input files.
RADIANCE — UNIX freeware for lighting design and rendering, developed by the U.S. Department of Energy and the Swiss federal government.
DOE-2 — An hourly, whole building energy analysis program that calculates energy performance and life-cycle cost of operation.
Additional software is listed in a comprehensive directory with information about more than 300 tools.