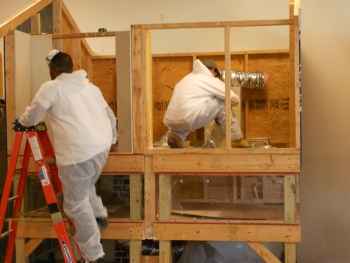 Trainees practice techniques on miniature model homes at the New River Center for Energy Research & Training in Christiansburg, Virginia. The Energy Department has developed a new certification program for quality control inspectors, energy auditors, crew leaders, and retrofit installer technicians, as part of the Weatherization Assistance Program's Guidelines for Home Energy Professionals project. | Photo courtesy of Weatherization Assistance Program Technical Assistance Center
The Energy Department's Weatherization Assistance Program (WAP) is well known for its efforts to improve the lives of low-income American families through energy efficient home upgrades, but it also focuses on establishing a skilled and certified workforce.
As part of the Guidelines for Home Energy Professionals project, WAP collaborated with trainers and technicians from across the home performance industry to develop high-quality, nationally recognized professional certifications.
These new certifications cover the four most common home energy and weatherization job classifications: quality control inspectors, energy auditors, crew leaders, and retrofit installer technicians. The certification program requires professionals to demonstrate competency and know-how through a mix of prerequisites, training, and on-the-job experience.  Learn more about how the program is set up and how to get certified.
The rigorous and competency-based certifications have received accreditation from the American National Standards Institute (ANSI). The Building Performance Institute (BPI) is the first licensed certifying body to offer the Home Energy Professional certification Since the inaugural program rolled out nationally in October, more than 150 home energy upgrade professionals have been certified, with many holding multiple certifications. Potential employers can find certified professionals using BPI's locator tool.
These credentials help advance the careers of home energy workers by proving they have the skills to complete high quality work. To accelerate the adoption of these certifications and ensure weatherization clients consistently receive top-notch service, WAP has implemented a new policy that requires all quality control inspectors involved in the program to be certified by 2015.
Looking to take your weatherization career to the next level?  Visit BPI.org/HEP today to find out how to get certified as a BPI home energy professional.