Top Innovation Spotlight: Window Replacement, Rehabilitation, and Repair Guides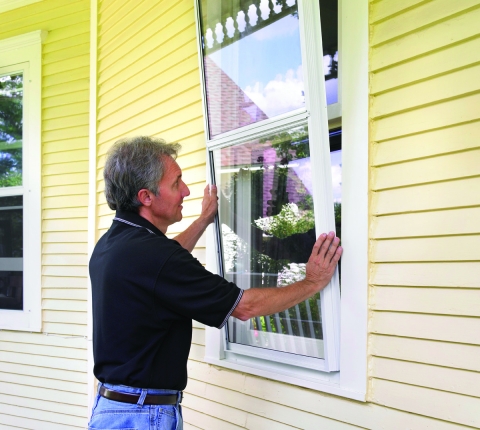 Researchers at Building Science Corporation, a Building America team, estimate that whole-house energy savings of up to 10% can be achieved through repair and rehabilitation of windows, potentially improving the energy efficiency of more than 5 million U.S. homes annually. So, the team developed a series of guides for homeowners and contractors that recommend various options for repairing or replacing old windows, securing a 2013 Top Innovation award in the process. The options include window sash repair, interior and exterior storm windows, and window rehabilitation and replacement. The guides are available in the Building America Solution Center, an online resource of home construction how-to's. Search for "retrofit windows" and filter for "Guides" under "Content Type." Learn about all of the Building America Top Innovations.
Building America Launches 2014 Webinar Series
Beginning in March, Building America kicks off its 2014 webinar series with free monthly presentations about the latest advances in residential building technologies and practices, presented by Building America research team experts. Please join us for the March webinar:
Standardized Retrofit Packages – What Works to Meet Consistent Levels of Performance?
Date/Time: March 19, 2014, 3:00 PM EDT
Description: This webinar will focus on specific Building America projects that have examined methods to consistently meet high levels of energy performance in existing homes, with a focus on retrofit packages that can be replicated across many homes. Presenters will address questions such as:
Can standard measures be applied without an audit?
Which packages of measures used in the Home Performance with ENERGY STAR (HPwES) program meet 30% savings?
What can master-planned communities do to develop and implement specifications for community-scale renovations?
Register now! Keep informed about upcoming webinars by visiting the Building America Meetings website.
Energy Efficiency Standardization Roadmap: Open for Public Comment until March 15
The American National Standards Institute (ANSI) Energy Efficiency Standardization Coordination Collaborative (EESCC) invites U.S. experts on energy efficiency-related issues, members of the standardization community, and other stakeholders to submit input on the EESCC Roadmap V1.0 by March 15, 2014. The U.S. Department of Energy Building Technologies Office supported the launch of the EESCC as a cross-sector, neutral forum and focal point for broad-based coordination among energy efficiency activities involving or impacted by standardization. The EESCC Standardization Roadmap V1.0 draft identifies areas where additional standardization activities are needed to advance energy efficiency within the built environment, and outlines recommended timelines for action. Primary focus is given to standards and conformity assessment activities that have direct applicability to the U.S. market. The draft is being issued for public comment to provide an opportunity for review and feedback before final publication in mid-2014.
DOE Challenge Home Tech Trainings for Zero Energy-Ready Homes
The Challenge Home program offers two DOE Challenge Home technical training webinars in March 2014, which provide overviews of systems critical to performance of zero energy-ready homes. Mark your calendar for these upcoming webinars:
Ducts in Conditioned Space
Date/Time: 3/20/14 – 12:00 noon-1:30 p.m. EDT
Presenter: Bill Zoeller, Steven Winter Associates
Description: One of DOE Challenge Home program's mandatory specs calls for ducts in conditioned space. However "ducts in conditioned space" isn't a one-size-fits-all design requirement. During the last several years, DOE's Building America research program and its partners have worked out the kinks on a toolkit of duct design strategies. In this session Bill Zoeller, a leading Building America expert, will present the pros and cons of these strategies so you can specify distribution systems which are effective in any type of project. Register.
Comprehensive Building Science
Date/Time: 3/26/14 – 12:00 noon-1:30 PM EDT
Presenter: Dean Gamble, Environmental Protection Agency
Description: DOE Challenge Homes aren't just really efficient – they're also designed and built using solid building science principles. Version 3 of the ENERGY STAR Certified Homes program, a prerequisite for every Challenge Home, delivers three key systems that improve comfort, indoor air quality, and durability—a complete thermal enclosure system, a complete HVAC system, and a complete water management system. In this webinar, Dean Gamble will cover the building science basics that underlie these key systems, as well as discuss the top three challenges of each system and how to overcome them. Register.
In addition, DOE Challenge Home trainings continue through 2014—find trainings in your area.
New Publications from Building America
The Building America Publications Library offers an extensive collection of technical reports, measure and strategy guidelines, case studies, and other resources to help you boost energy efficiency in new and existing homes. Also, the Building America Solution Center links you to expert building science and energy efficiency information based on Building America research results. Here is a sampling of some of our most recent publications:
No-Regrets Remodeling, 2nd Edition
This guide, sponsored by Oak Ridge National Laboratory, is an informative publication that walks homeowners and/or remodelers through various home remodeling projects and also provides instruction on how to incorporate energy efficiency into the remodeling process. The goal of the publication is to improve homeowner satisfaction after completing a remodeling project and to provide the homeowner with a home that saves energy and is comfortable and healthy.
The Building America Indoor Temperature and Humidity Measurement Protocol
When modeling homes using simulation tools, the heating and cooling set points can have a significant impact on home energy use. The purpose of this document, developed by the National Renewable Energy Laboratory, is to create a protocol for collecting consistent data for heating/cooling set points and relative humidity so that an average set point can be determined for asset energy models in residential buildings. This document covers the decision-making process for researchers to determine how many sensors should be placed in each home, where to put those sensors, and what kind of asset data should be taken while they are in the home.
Measure Guideline: Condensing Boilers—Optimizing Efficiency and Response Time During Setback Operation
Conventional wisdom surrounding space heating has consistently stated two things: size the mechanical systems to the heating loads, and setting the thermostat back at night will result in energy savings. The problem is these two recommendations oppose each other. Properly designing a hydronic system for setback operation can be accomplished but depends on several factors. The first step is to determine the appropriateness of setback for a particular project. This is followed by proper sizing of the boiler and baseboard to ensure the needed capacity can be met. Finally, control settings must be chosen that result in the most efficient and responsive performance. This guide provides step-by-step instructions for heating contractors and hydronic designers for selecting the proper control settings to maximize system performance and improve response time when using a thermostat setback.
DOE Challenge Home Case Study: Volusia Habitat for Humanity, Edgewater, Florida
This case study describes an affordable, Habitat for Humanity Challenge Home in coastal Florida with insulated concrete form walls, photovoltaics, solar water heating, and fur-up duct chase.
2013 Building America Research Planning Meeting Summary
The Building America Research Planning Meeting was held October 28-30, 2013, in Washington, DC. This meeting provides one opportunity each year for the research teams, national laboratories and Department of Energy (DOE) managers to meet in person to share the most pertinent information and collaboration updates. This report documents the presentations, highlights key program updates, and outlines next steps for the program.
Additional reports published recently are:
Measure Guideline: Selecting Ventilation Systems for Existing Homes
New Whole-House Solutions Case Study: Winchester Homes and Camberly Homes
Cascade Apartments: Deep Energy Multifamily Retrofit
New Whole-House Solutions Case Study: Hood River Passive House
Ventilation System Effectiveness and Tested Indoor Air Quality Impacts
Technology Solutions Case Study: Replacement of Variable-Speed Motors for Furnaces
Simplified Space Conditioning in Low-Load Homes: Results from the Fresno, California, Retrofit Unoccupied Test House
Visit the Building America Publications Library to access the entire catalog of publications to help improve the efficiency of new and existing homes.
Want to learn more about Building America or help us spread the word about the program? View the new video, "What is Building America?" on DOE's YouTube channel to learn about how Building America aims to bridge the gap between homes with high energy costs and homes that are healthy, durable, and energy efficient.
Please forward this announcement to colleagues who may be interested in subscribing to future updates about Building America.