Top Innovation Spotlight: Next Generation Advanced Framing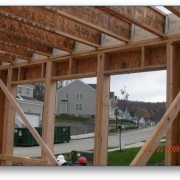 Building America field studies involving thousands of homes have verified significant savings in energy, materials, and labor when production builders apply advanced framing techniques—exceeding $1,000 per home. The Partnership for Home Innovation (PHI), a Building America team, won a 2013 Top Innovation award for its research into simple, cost-effective ways to implement advanced framing techniques. The team tested three innovative techniques that improve the thermal performance of the building enclosure, reduce the cost of energy-efficient construction, and simplify the construction process, while allowing for higher levels of perimeter insulation. PHI's research has resulted in amendments to the 2015 International Residential Code that were approved in the fall of 2013.
Read about this and other Top Innovations in DOE's Energy Efficiency and Renewable Energy blog article titled "3 Innovations That are Transforming America's Homebuilding Industry." Or, visit the 2013 Top Innovations website.
DOE Challenge Home Launches Tech Trainings for Zero Energy-Ready Homes
Start the year right with a series of DOE Challenge Home technical training webinars, which provide overviews of systems critical to performance of zero energy-ready homes. This month's webinars focus on hot water distribution, one of the important systems affecting energy use, water consumption, and resident convenience and comfort. Register now!
Efficient Hot Water Distribution I – What's at Stake: January 9, 2014: 12:30 PM – 1:45 PM EST
In this webinar, presenter Gary Klein, Affiliated International Management, LLC, will cover the basics of residential hot water plumbing systems including the key performance metrics to understand, and how piping, pumps, and fixtures come together to create a good (or bad) system. Reserve your seat at: https://www1.gotomeeting.com/register/895518521.
Efficient Hot Water Distribution II – How to Get it Right: January 30, 2014: 12:00 PM – 1:15 PM EST
In the second session on hot water distribution, presenter Gary Klein, Affiliated International Management, LLC, will explain design techniques for optimizing hot water delivery for both energy and water – while avoiding unexpected performance issues.  The session will include re-circulation system design as well as structured plumbing systems.Reserve your Webinar seat at: https://www1.gotomeeting.com/register/490932777.
In addition, DOE Challenge Home trainings continue through 2014—find trainings in your area.
Small Business Innovation Research Funding Opportunity: Deadline–2/4/14
If you submitted a Letter of Intent for the DOE Small Business Innovation Research (SBIR)/ Small Business Technology Transfer (STTR) FY 2014: Phase I (Release 2), please be advised that the deadline for the full application is 11:59 PM on February 4, 2014. This Funding Opportunity Announcement includes two building-related categories:
Advanced Manufacturing Processes to Reduce Soft Costs of Energy-Efficient Building Envelope Technologies for Retrofitting Existing Buildings
Integrating Advanced Whole-Building Energy Simulation into End-User Workflows and Tools.
For details, refer to the listing for "Buildings" under the heading "Office of Energy Efficiency and Renewable Energy" in the Topics document.
BEopt Version 2.1 Offers Expanded Modeling Inputs and Features
The new BEopt Version 2.1 is now available! BEopt evaluates residential building designs and identifies cost-optimal efficiency packages at various levels of whole-house energy savings along the path to zero net energy. BEopt 2.1 includes major features such as: mini-split heat pumps and room air conditioners (E+); new modeling inputs; component-based air leakage estimate for existing buildings; and more—see details about the new features. Visit the BEopt website to download Version 2.1.
Find Examples of Building America Proven Performance in Your Area
Look for examples of high-performance homes across the nation on the newly updated Building America Climate-specific Guidance website. See case studies on new and existing homes in five major climate zones—cold/very cold; hot/dry; hot/humid; mixed humid; and marine. In addition, a new "All Climates" page provides examples of technology-specific measures that may be applicable to homes across all climate zones.
New Publications from Building America
The Building America Publications Library offers an extensive collection of technical reports, measure and strategy guidelines, case studies, and other resources to help you boost energy efficiency in new and existing homes. Also, the Building America Solution Center links you to expert building science and energy efficiency information based on Building America research results. Here is a sampling of some of our most recent publications:
Space conditioning represents nearly 50% of average residential household energy consumption, highlighting the need to identify alternative cost-effective, energy-efficient cooling and heating strategies. In this project, ARBI researchers worked with two test homes in hot-dry climates to evaluate the in-situ performance of air-to-water heat pump systems, an energy efficient space conditioning solution designed to cost-effectively provide comfort in homes with efficient, safe, and durable operation. Results are used to quantify energy savings, cost-effectiveness, and system performance using different operating modes and strategies. This strategy is most effective in tight, insulated homes with high levels of thermal mass (i.e. exposed slab floors).
Comprehensive renovations of foreclosed homes provide numerous opportunities to improve whole house energy efficiency. BA-PIRC worked together in a multiyear field study making recommendations in individual homes, meanwhile compiling improvement costs, projected energy savings, practical challenges, and labor force factors surrounding common energy-related renovation measures. The field study, Phase 1 of this research, resulted in a set of best practices appropriate to the current labor pool and market conditions in central Florida to achieve projected annual energy savings of 15%-30% and higher. This report describes Phase 2 of the work where researchers worked with a local government partner to implement and refine the "current best practices". The scenarios apply readily to the general remodeling industry as for renovation of foreclosed homes for the affordable housing market. The new local government partner, the City of Melbourne, implemented the best practices in a community-scale renovation program that included ten homes in 2012.
In an attempt to create a simplified tool for predicting leakage to the outside, the CARB team performed a preliminary statistical analysis on blower door test results from 112 attached dwelling units in four apartment complexes. The correlation between building specifications and the ratio of guarded and solo test results was investigated. Although the subject data set is limited in size and variety, the preliminary analyses suggest significant predictors are present and support the development of a predictive model. Further data collection is underway to create a more robust prediction tool for use across different construction types, climate zones, and unit configurations.
Additional reports published recently are:
Visit the Building America Publications Library to access the entire catalog of publications to help improve the efficiency of new and existing homes.
Want to learn more about Building America or help us spread the word about the program? View the new video, "What is Building America?" on DOE's YouTube channel to learn about how Building America aims to bridge the gap between homes with high energy costs and homes that are healthy, durable, and energy efficient.
Please forward this announcement to colleagues who may be interested in subscribing to future Building America Updates.