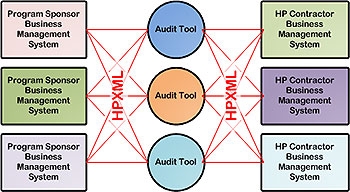 In the world of home energy analysis, a variety of software tools are available for compiling and evaluating home energy audit data. This means home performance companies need to be fluent in several reporting platforms that span multiple utility companies and regions. This month's 2013 Top Innovation spotlight shines on a new data transfer standard, supported by researchers at the National Renewable Energy Laboratory, which streamlines the exchange of information between home performance tracking systems and energy upgrade analysis software.
The Building Performance Institute, Inc. Standard for Home Performance-Related Data Transfer (dubbed Home Performance XML, or HPXML) provides an extensible mark-up language (XML) protocol that can seamlessly transfer data between contractors, energy assessors and modelers, efficiency program administrators, utility companies, and policymakers. This will ensure that quality data are available in a usable format at the local, regional, and national levels to validate savings and demonstrate the market value of home energy upgrades, and could dramatically reduce the cost, time, and effort required to transfer information. In fact, use of the HPXML standard could reduce the overhead cost for businesses to participate in the high performance home industry by up to 20%, and is applicable to approximately 125 million existing U.S. homes.
Learn about all of the Building America Top Innovations.
Building America brings you free monthly webinars highlighting the latest advances in residential building technologies and practices, presented by Building America research team experts. Please join us for the April webinar:
Opportunities in Large Data Collection and Analysis
Date/Time: April 16, 2014, 3:00 PM EDT
Description: The webinar will focus on specific Building America projects that are looking to gather and analyze large bodies of data on new and existing homes, and will feature opportunities for industry to collaborate with researchers to gather and analyze valuable data. Presenters and discussions include:
Omari Faakye (Consortium for Advanced Residential Buildings) will discuss the benefits of analyzing a large database of guarded vs unguarded blower door tests with a simplified tool for predicting leakage to the outside based on six predictor variables.
Noel Merket (National Renewable Energy Laboratory-NREL) will introduce the Building America Field Data Repository and the collection of home characteristics, utility bill data, and field testing data from Building America team projects and historical energy retrofit studies that have been compiled.
Cheryn Metzger, Chuck Booten (NREL) and Paul Norton (Norton Energy R&D) will present information about the Indoor Temperature and Humidity Protocol and NREL's effort to lead data collection and analysis for more than 300 homes across the country in order to calculate statistically significant data for assigning temperature and humidity set points for asset rating of homes.
Register now! Visit the Building America Meetings website to keep informed about other upcoming webinars.
Each month, Building America highlights examples of high performance home building for new and existing homes across the nation. The April 2014 successes demonstrate that affordability can go hand in hand with high performance home building.
Palo Duro Homes: As of September 2013, this New Mexico production builder had certified 65 of its homes to the DOE Challenge Home program. In this example, Palo Duro successfully combined affordability with state-of-the-art efficiency through advanced framing techniques, spray-foamed attic, an air source heat pump, and a heat recovery ventilator.
56th and Walnut: A Philly Gut Rehab Development: In this project, builder Columbus Property Management and Development partnered with Building America team Consortium for Advanced Residential Buildings to renovate 32 units in 11 three-story, historic, brick masonry urban buildings, achieving a projected annual energy savings of 47% per unit.
See more case studies on the Climate-Specific Guidance pages of the Building America website.
The Building Energy Optimization (BEopt) tool evaluates residential building designs and identifies cost-optimal efficiency packages at various levels of whole-house energy savings along the path to zero net energy. BEopt 2.2 was just released and includes major new features such as:
Utility rate wizard (time of use rates, tiered time of use rates, real-time pricing, and fixed and/or minimum charges)
Schedule wizard (weekday/weekend + monthly profiles, 8760 hourly profiles)
Demand respond analysis based on critical peak events
Pre-cooling and direct load control (for air conditioning, major appliances, and large uncommon loads); 
Output screen and optimization search enhancements
Support for the 2014 Building America House Simulation Protocols and E+ 8.1b009.
Read about the new features and visit the BEopt website to download.
The Challenge Home program offers two DOE Challenge Home technical training webinars in April 2014:
Better Business for Builders – April 10, 2014; Noon-1:15 PM EST
The DOE Challenge Home—DOE's blueprint for zero energy-ready homes—represents a new level of home performance, with rigorous requirements that ensure outstanding levels of energy savings, comfort, health, and durability. This webinar will provide an overview of the Challenge Home program, including the business case and how to be recognized as an industry leader. Register.
Resources for Verifying, Constructing, and Marketing Zero Energy Homes – April 17, 2014; Noon-1:15 PM EST
Plan review… energy modeling… field inspections… certification…done! Right? If it were only that simple to design, build, and market zero energy-ready homes. The reality is that a lot more is involved to be successful—technical resources, tools to navigate the lending process, and marketing collateral to connect in a meaningful way with buyers. In this session, you'll learn about recently developed DOE resources you can use to succeed: the Building America Solution Center; the DOE Challenge Home Appraisal Guidance; the DOE Challenge Home Customizable Brochure, and the DOE Challenge Home Virtual Parade of Zero Energy Ready Homes. Register.
Check the Challenge Home Events Calendar for zero energy-ready home trainings in your area, continuing through 2014. This 3.5-hour training provides builders with a comprehensive review of zero energy-ready home construction including the business case, detailed specifications, and opportunities to be recognized as an industry leader.
Read the "Race to Net Zero" article in the March/April issue of Green Home Builder magazine, which explains how the DOE Challenge Home program represents a new level of home performance.
The Building America Publications Library offers an extensive collection of technical reports, measure guidelines, case studies, and other resources to help you boost energy efficiency in new and existing homes. On the library page, you can subscribe to the RSS feed that delivers reports as they are published. Also, the Building America Solution Center links you to expert building science and energy efficiency information based on Building America research results. Here are samples of some of our most recent publications:
Measure Guideline: Optimizing the Configuration of Flexible Duct Junction Boxes
This guideline offers recommendations to HVAC system designers for optimizing flexible duct, constant-volume HVAC systems using junction boxes within Air Conditioning Contractors of America (ACCA) Manual D guidance. These recommendations can help to ensure that a system aligns more closely with the design and the occupants' comfort expectations. Specifically, the recommendations show how to configure a rectangular box with four outlets, a triangular box with three outlets, metal wyes with two outlets, and multiple configurations for more than four outlets.
Performance Results for Massachusetts and Rhode Island Deep Energy Retrofit Pilot Community (full report) and related case study Whole-House Solutions for Existing Homes: National Grid Deep Energy Retrofit Pilot
Between December, 2009 and December, 2012, 42 deep energy retrofit (DER) projects were completed through a pilot program sponsored by National Grid and conducted in Massachusetts and Rhode Island. Building Science Corporation developed a consistent "package" of measures in terms of the performance targeted for major building components. Based on the community experience, this DER package is expected to result in yearly source energy use near 110 MMBtu/year or approximately 40% below the Northeast regional average.
2014 Building America House Simulation Protocols
As Building America has grown to include a large and diverse cross-section of the home building and retrofit industries, it has become more important to develop accurate, consistent, and analysis techniques to measure progress toward the program's goals. The House Simulation Protocol (HSP) document provides guidance to program partners and managers so they can compare energy savings for new construction and retrofit projects. The HSP provides the program with analysis methods that are proven to be effective and reliable in investigating the energy use of advanced energy systems and of entire houses.
HVAC Design Strategy for a Hot-Humid Production Builder (full report) and related case study Whole House Solutions for New Homes: HVAC Design Strategy for a Hot-Humid Production Builder
This research project addressed the following questions: 1. What is the most cost-effective, best performing and most easily replicable method of locating ducts inside conditioned space for a hot-humid production home builder that constructs one and two story single family detached residences? 2. What is a cost-effective and practical method of achieving 50% source energy savings vs. the 2006 International Energy Conservation Code for a hot-humid production builder? 3. How accurate are the pre-construction whole-house cost estimates compared to confirmed post construction actual cost?
Additional reports published recently are:
Air Distribution Retrofit Strategies for Affordable Housing
Technology Solutions Case Study: Ducts Sealing Using Injected Spray Sealant
Existing Whole-House Solutions Case Study: Applying Best Practices to Florida Local Government Retrofit Programs
Spray Foam Exterior Insulation with Stand-off Furring
Existing Whole-House Solutions Case Study: Evaluating Energy Savings in New and Existing All-Electric Public Housing in the Pacific Northwest
Field Trial of a Low-Cost, Distributed Plug Load Monitoring System
Visit the Building America Publications Library to access the entire catalog of publications to help improve the efficiency of new and existing homes.
Want to learn more about Building America or help us spread the word about the program? View the new video, "What is Building America?" on DOE's YouTube channel to learn about how Building America aims to bridge the gap between homes with high energy costs and homes that are healthy, durable, and energy efficient.
Please forward this announcement to colleagues who may be interested in subscribing to future updates about Building America.