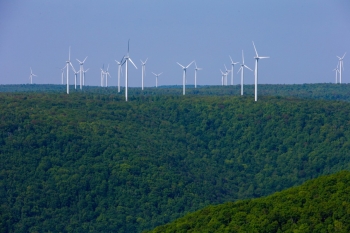 Mehoopany wind farm in Pennsylvania can produce enough energy to power more than 40,000 homes under a contract with Old Dominion Electric Cooperative and the Southern Maryland Electric Cooperative. Old Dominion was named one of the winners of the Wind Cooperative of the Year Award last week. | Photo courtesy Old Dominion Electric Cooperative
As one of America's largest electricity providers, electric cooperatives serve an estimated 42 million people in 47 states. Owned by the customers they serve and backed by private, independent, and non-profit electric utilities, cooperatives provide at-cost electric service to roughly 12% of the nation's population.  
Electric co-ops are increasingly turning to wind power as a clean, reliable source of energy that slashes carbon emissions and protects the environment.  The Energy Department and National Rural Electric Cooperative Association recently recognized two electric co-ops that demonstrate leadership in wind energy: Old Dominion Electric Cooperative of Virginia and the Rural Electric Convenience Cooperative (RECC) of Illinois.
Old Dominion has added four separate wind power contracts, together totaling 260 megawatts, to its existing resource portfolio since 2008. As a wholesale power supply cooperative, not only does ODEC generate electricity, for customers, it also  procures power for 11 member retail cooperatives and resells the renewable energy credits  to member cooperatives and third parties.
A unique project by RECC transformed a brownfield site into a model of sustainability.  RECC teamed up with the Illinois Department of Natural Resources to provide its 5,800 customers with wind energy, by installing a utility-scale turbine on the elevated section of an abandoned mine.  The 14-foot, 60-acre tailing pile owned by DNR gives the installation sufficient height to capture strong winds to power the 900-kilowatt turbine, helping the co-op provide clean energy to its customers.  Learn more about the 2013 Wind Cooperatives of the Year awards and the Energy Department's wind power work.