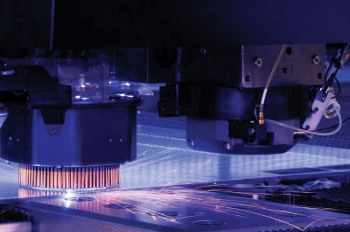 A combination solid-state laser turret cutter and stamping machine cuts a thin steel plate that will be formed into lighting fixture housing. Wisconsin-based Eaton Corporation is developing a new manufacturing process that streamlines LED fixture designs. | Photo courtesy of Eaton Corporation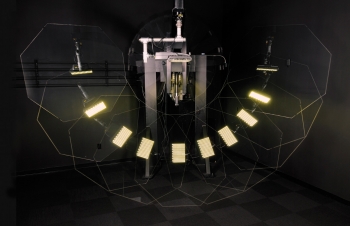 A goniometer measures the photometric output distribution of an outdoor LED street light fixture. Researchers at Eaton are developing a new manufacturing process will enable LED chips to sit directly on heat sinks, improving heat transfer. | Photo courtesy of Eaton Corporation
A Wisconsin-based company is developing an innovative way to reduce manufacturing costs of light-emitting diodes (LEDs).
With help from a $2.4 million Energy Department (DOE) research grant that is matched dollar for dollar by the company, researchers at Eaton Corporation in Menomonee Falls, Wisconsin, are creating a manufacturing process that not only streamlines LED fixture designs but also removes unnecessary materials and parts. The new process will enable LED chips to sit directly on heat sinks, resulting in better heat transfer and ultimately increasing efficiency of LEDs.
This type of work represents one of five manufacturing research and development projects DOE is funding to help strengthen the performance of LEDs and organic LEDs and improve cost-effective manufacturing techniques. 
Creating cutting-edge technologies is nothing new to Eaton. The company developed and deployed Motor Insight,™ an electric motor overload and monitoring state that slashed installation and infrastructure costs for manufacturers by more than 80 percent when compared with standard wired systems.
The technology enables manufacturers to predict potential equipment failure and allows for scheduled production maintenance. This helps prevent unscheduled downtime, which can waste energy and increase maintenance costs for manufacturers.
Improving efficiency in manufacturing as well as increasing the manufacture of clean energy products like efficient lighting are goals of the Clean Energy Manufacturing Initiative, a cross-cutting effort by EERE that was launched earlier this year at Oak Ridge National Laboratory.
Want to learn more about LEDs? Check out our Energy 101 video on lumens or go to energy.gov/lighting.