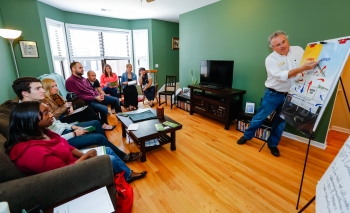 The Energy Impact Illinois (EI2) "house party" initiative was one of several innovative models proven by the more than 40 Better Buildings Neighborhood Program partners to create demand for home energy upgrades. | Photo courtesy of Dan Olson, EI2
In less than four years, The Energy Department's Better Buildings Neighborhood Program has helped more than 100,000 home and business owners save energy, live more comfortably, and reduce their utility bills through building energy upgrades. Danielle Sass Byrnett has managed the program since it started under the American Recovery and Reinvestment Act. She answers seven key questions below. 
1. What's the purpose of the Better Buildings Neighborhood Program?
The program started as a $486 million investment of Recovery Act funding for state and local governments to develop community-based programs for improving energy efficiency.  It combined local programs' consumer demand strategies, workforce development and contractor partnerships, and financing to ensure consumers had easy and attractive ways to make energy-efficient improvements to their homes and businesses.
2. How much energy has been saved as a result of the program?
Between 2010 and 2013, the Better Buildings Neighborhood Program partners performed more than 100,000 upgrades and more than 230,000 energy assessments. An average energy upgrade saved a homeowner more than 20 percent of the total energy use of their home. This work is projected to save more than $730 million for consumers. Our partners have also demonstrated replicable approaches, market-ready technologies, and new financing models that will continue to help building owners across the country complete upgrades to save energy and money. Some of these savings will come from loan funds set up under the program as they are used to finance energy efficiency upgrades.
3. How has the program benefited the nation's economy and workforce?
The Better Buildings Neighborhood Program supported more than $740 million in direct invoices to local workers for energy assessments and upgrades they performed. Over the course of the program, partners trained more than 5,000 home performance professionals and helped employ more than 1,400 participating contractors. From engaging contractors early to discovering the benefits of contractor sales training, our partners' experiences have also provided key lessons learned for effectively managing and staffing an energy efficiency program at the state and local levels.
4. What are some creative ways partners spread the word about energy efficiency to neighborhoods?
There were countless examples—many documented in the new Better Buildings Residential Program Solution Center—ranging from carrotmobs to neighborhood canvassing to community competitions to employer-based outreach. One of the most successful was sponsored by our Chicago partner, Energy Impact Illinois (EI2), after an initial false start. EI2 first expended time and effort in creating a funny webisode series featuring Big Bill and Little Bill—played by two professional comedy troupe actors—about how to save money and energy in your building. Although the webisodes generated a lot of great press, the series unfortunately didn't result in any home energy upgrades. After going back to the drawing board, EI2 decided to engage in grassroots outreach they called house parties, where homeowners would invite a group of friends, family, and neighbors to experience a home energy assessment in person. Not only did this end up being a more compelling call to action for the community, but it was also much more inspiring for everyone involved and resulted in significant participation. EI2 went from zero home energy upgrades to more than 3,000 over the course of a year.
5. What advice can you give others seeking to motivate people to take action on energy efficiency?
One of the most important things we've learned is that creating demand for home energy upgrades requires alternatives to traditional advertising. I often translate this point into advice to: "inspire, rather than educate." There is a substantive difference in approach and reaction between sharing information and inspiring action. If you want someone to change their behavior – sign up for an energy assessment, complete an energy upgrade, tell a friend -- you need to get them excited to do so relative to all the other priorities in their life. The real challenge for most programs is in learning what will motivate someone, which takes market research to identify what will inspire a specific audience. Going back to the Chicago example, we discovered what motivated homeowners was not a funny video, but rather being part of a community and sharing an experience with friends and neighbors. That's a powerful lesson.
6. How will these lessons be shared with the public and organizations interested in energy efficiency programs?
The program partners shared a lot of information with each other and the Energy Department. Their examples, lessons, and resources have been used to populate the new Better Buildings Residential Program Solution Center. It will help energy efficiency program teams and their partners plan, implement, manage and evaluate residential energy upgrade programs. The tool is in the final stages of external peer review and testing; email us if you would like to start exploring its use now or to sign up for a webcast demonstration. To receive an announcement when the Solution Center is released and stay connected, subscribe to the Better Buildings Network View newsletter.
7. What's next for the Better Buildings Neighborhood Program?
To continue the legacy of the program, the Energy Department is expanding the Better Buildings Neighborhood Program into a voluntary-based Better Buildings Residential Network. Not only will the Residential Network continue to spur energy efficiency innovations, but it will continue to gather and share lessons learned from its members to help the residential energy efficiency industry expand on successes. To date, more than 70 organizations from across the U.S. and into Canada have become Residential Network members. These organizations represent a broad range of stakeholders in the residential energy efficiency market, including energy efficiency programs, contractors, trade allies, financial firms, nonprofits, universities, utilities, and state and local governments. If your organization is committed to increasing the number of U.S. homes that are energy efficient, learn more and join today.