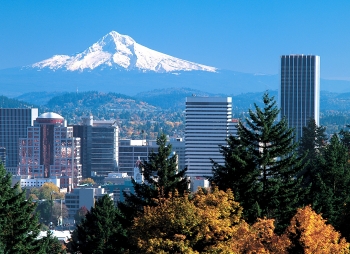 This year's SSL Market Introduction Workshop will take place in Portland, Oregon. | Photo courtesy of Travel Portland
Rapid advances in solid-state lighting (SSL) technology are reducing the cost, improving the performance and quality, and bringing new lighting options--light emitting diodes (LEDs) to the market.
But for lighting and energy efficiency industry professionals this seemingly good news can be "too much of a good thing." Imagine the challenge of making smart institutional purchasing decisions or designing incentive programs when your cost-benefit and energy-savings analyses become outdated in a matter of months due to advances in the marketplace.
That's where the Energy Department's (DOE) SSL Market Introduction Workshop can help. This year's event, to be held November 13-14 in Portland, Oregon, will include expert guidance from industry leaders and DOE's national laboratories.
Topics include:
Cost-effectiveness analyses and price projections
Advances in LED chips, product designs, and optics
LED adoption trends
Managing risks, including questions related to product lifetime, reliability, color, dimming, flicker, and power quality
The evolution of national programs and state requirements
The workshop will be preceded by a half-day of free training on November 12 for lighting professionals and newcomers looking to better understand SSL.  An optional tour to a nearby testing laboratory will include a look at the latest CALiPER mockups for LED PAR38 lamps and troffers. To register for the workshop or for more information on the event, visit DOE's SSL website.
SSL has the potential to reduce U.S. lighting energy usage by nearly one half and contribute significantly to our nation's climate change solutions. Learn more about what DOE is doing to advance SSL technology.