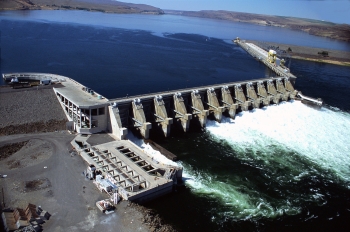 Hydropower is a major source of renewable energy in the United States. | Photo of Wanapum Dam in Washington courtesy of Grant County Public Utility District
Greetings, EERE blog readers! In our inaugural edition of Fun Fact Friday, we compared the ranges of several plug-in hybrid vehicles. 
Today, we take a quick look at the nation's sources of electricity. In 2012, 12% of our electricity came from U.S. power plants using renewable energy sources—including hydropower, wind, bioenergy, geothermal and solar.  Thanks in part to government investments, the U.S. clean energy industry has more than doubled renewable energy generation from wind, solar, and geothermal sources since 2008.
Check out the chart below to view the electricity generation trends by source throughout the past ten years.  Note the steady increase in the thickness of the colored bands representing renewable energy.
Increasing the use of renewable energy is a key goal of the Energy Department's Office of Energy Efficiency and Renewable Energy (EERE), which leads a network of researchers and other partners to deliver innovative technologies that will help make renewable electricity generation more cost-competitive with conventional forms of energy. Go to energy.gov/eere to learn more about EERE's work.
For more fun clean energy facts, check out eia.org/renewable. 
Electricity Generation by Source, 2003-2012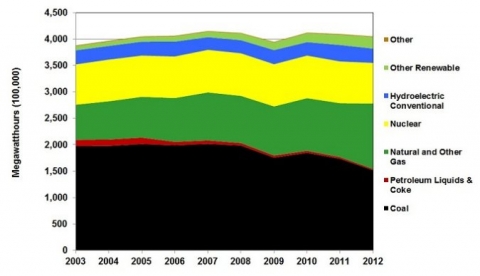 Notes:
Other renewable sources include wood, black liquor, other wood waste, biogenic municipal solid waste, landfill gas, sludge waste, agriculture byproducts, other biomass, geothermal, solar thermal, photovoltaic energy, and wind.
Other includes non-biogenic municipal solid waste, batteries, hydrogen, purchased steam, sulfur, tire-derived fuel, and other miscellaneous energy sources.