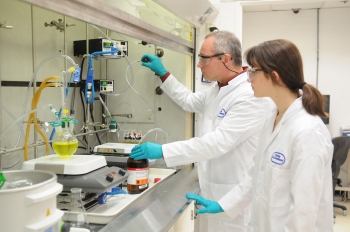 Chemist Kris Pupek and student researcher Thoe Michaelos prepare validation experiments for the synthesis of battery materials at Argonne National Laboratory in Lemont, Illinois. Battery research at Argonne, and other national laboratories like it, are helping plug-in electric vehicles become more efficient and affordable. | Photo courtesy of Argonne National Laboratory
The EV Everywhere Grand Challenge is the Energy Department's 10-year vision to enable the U.S. to be the first nation in the world to produce plug-in electric vehicles that are as affordable for the average American family as today's gasoline powered vehicles by 2022. This Challenge is bringing together America's best and brightest scientists, engineers, and businesses to work collaboratively to make plug-in electric vehicles less expensive and more convenient to own and drive. Follow this series to learn about just a few examples of how this vision is becoming a reality.
Plug-in electric vehicles are increasingly becoming a form of reliable, sustainable transportation for everyday Americans, but more can be done to make them even more efficient and affordable. The Department of Energy's EV Everywhere Grand Challenge seeks to make the U.S. the first nation in the world to produce plug-in electric vehicles that are as affordable and convenient for the average American family as today's gasoline-powered vehicles by 2022.
Lowering the cost of batteries and increasing their capacity to store energy would greatly contribute to reaching this goal.  The Energy Department's Vehicle Technologies Office—partnering with industry and national laboratories—has made major advances in lithium-ion batteries, helping to lower their cost by about 50% since 2010. These improvements are on track to bring batteries down to less than a quarter of their cost, half of their size, and half of their weight by 2022 compared to 2010.  In addition to research, investments in domestic manufacturing are also lowering the cost of batteries.
HIGH-IMPACT RESEARCH RESULTS
The Vehicle Technologies Office has a long history of supporting groundbreaking research in vehicle batteries. Most of the hybrid electric vehicles on the road today use nickel-metal hydride batteries with technology developed through projects funded by the Vehicle Technologies Office.
The Vehicle Technologies Office focuses on reducing the cost, volume, and weight of lithium-ion and "beyond" lithium-ion batteries while enhancing their performance.  The research starts at the Energy Department's national laboratories and university partners, where scientists and engineers are working to improve the building blocks of batteries: anodes, cathodes, and electrolytes.
The next step is bringing these materials together into cells to ensure that they function as a system.  Lastly, researchers connect the cells into a series, which they then combine into full battery modules. These modules must meet specific goals for power, safety, durability, and reliability before manufacturers use them in vehicles.
FROM THE LAB TO THE MARKETPLACE
Many of the technology advances made through research supported by the Energy Department are found in batteries today. Vehicles on the market such as GM's Chevrolet Volt plug-in hybrid electric vehicle, the all-electric Ford Focus EV, and other hybrids from BMW and Mercedes all use lithium-ion technology developed as a result of Vehicle Technologies Office projects.
For example, BASF, a global chemical manufacturer, is currently producing cathode materials for vehicle batteries at its manufacturing facility in Elyria, Ohio using technology licensed from Argonne National Laboratory. The Vehicle Technologies Office supported the factory's construction through $25 million in American Recovery and Reinvestment Act funding and the factory opened in 2012. The batteries using these cathodes have a higher energy density, lower cost, and lower weight than comparable lithium-ion batteries.  They are also less expensive and able to store more electricity per charge, improving the affordability and convenience of plug-in electric vehicles.
BASF is also independently renovating and expanding its battery research facility in nearby Beachwood, Ohio. Even before the expansion, researchers at this facility were pushing battery technology forward. In 2012, as part of an Energy Department-supported project, BASF lowered the production costs of battery cathodes by more than 15%.
With research constantly advancing battery technology, plug-in electric vehicles have a high-powered future.