For decades, the Energy Department's Building Technologies Office has been developing free, world-class simulation tools to help industry improve energy efficiency of commercial buildings. Now, the Department's flagship building energy simulation engine, EnergyPlus, is getting a makeover.
EnergyPlus was originally written in FORTRAN, a programming language for scientific supercomputing applications. Autodesk, a leader in building design software, has translated EnergyPlus' 600,000 lines of computer code into C++, one of the world's most popular programming languages.  The change allows EnergyPlus to run on modern hardware like multi-core processors and better connect to other software products. Further, it increases accessibility of EnergyPlus to many more developers, who can customize their own programs to identify potential energy savings in buildings throughout the country.
Autodesk is granting the C++ translation back to the Energy Department under the terms of EnergyPlus' open-source license. In 2014, the Energy Department and Autodesk will collaborate to improve EnergyPlus' execution speed and its support for detailed architectural models.
Autodesk's work on EnergyPlus is not only a technical breakthrough, it also reinforces the company's commitment to creating simulation software that improves building efficiency design.
To learn more about EnergyPlus and other building energy modeling resources, visit the Emerging Technologies program.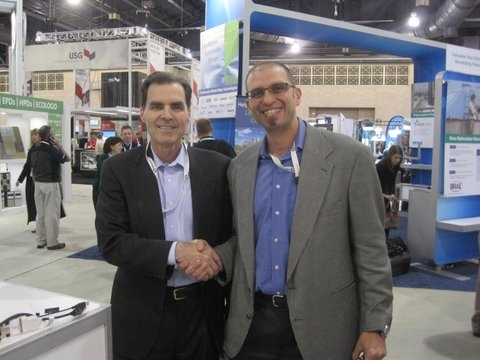 Building Technologies Office Director Roland Risser (left) shakes hands with Autodesk Director of Building Performance Analysis Emile Kfouri during GreenBuild 2013 in Philadelphia. Kfouri presented the C++ translation of EnergyPlus' software to Risser at the expo. The new translation will help make EnergyPlus more accessible and improve advanced energy simulation in everyday building design practice. | Photo by Amir Roth