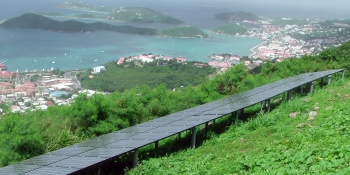 This 10 kW PV system is located on Skyline Road on St. Thomas, overlooking Charlotte Amalie. | Photo by Don Buchanan, NREL 19568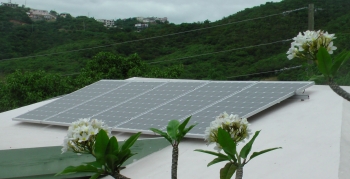 PV panels installed at the Montessori School on St. Thomas, US Virgin Islands. | Photo from Don Buchanan, Virgin Islands Energy Office, NREL 19338
EERE Investment
$65 million
Location
U.S. Virgin Islands
Partners
National Renewable Energy Laboratory
Virgin Islands Water and Power Authority Office
Virgin Islands Energy Office
The U.S. Virgin Islands (USVI) is working with the Energy Department to transition from fossil fuel energy to the renewable resources that are abundant on the islands. By reducing its dependence on oil, the USVI is taking strides toward greater economic stability and a clean energy economy. With financial assistance from the Department of Energy's (DOE's) Office of Energy Efficiency and Renewable Energy (EERE) and technical assistance from DOE's National Renewable Energy Laboratory (NREL), the USVI has thoroughly evaluated its clean energy opportunities and made a $65 million investment in solar power.
In 2010, the USVI faced electricity prices more than four times higher than the U.S. average, and USVI Gov. John P. de Jongh Jr. set the ambitious goal of reducing the territory's dependence on fossil fuels 60% by 2025. He worked with DOE and the U.S. Department of the Interior to launch the Energy Development in Island Nations (EDIN) initiative's USVI pilot project. As an EDIN project partner, the USVI was able to tap into a broad spectrum of technical assistance and project development support from DOE and NREL.
DOE and NREL technical experts worked with the Virgin Islands Water and Power Authority (WAPA) Office, the Virgin Islands Energy Office, and other USVI stakeholders to identify the best combination of wind, solar, waste-to-energy, landfill gas, and energy efficiency technologies for the USVI to meet its aggressive clean energy goal. This baseline energy assessment pointed to solar resource development as an important first step.
In 2012, three companies signed six power purchase agreements with WAPA, investing a total of $65 million to install 18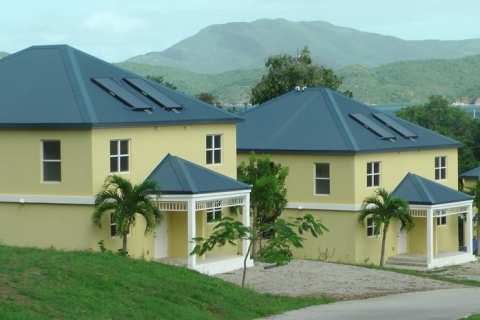 megawatts (MW) of solar in the USVI—9 MW on St. Thomas and 9 MW on St. Croix. This solar power will be generated through roof- and ground-mounted photovoltaic (PV) arrays. WAPA will buy the electricity at a significantly lower and more sustainable rate than the same amount of diesel-generated power. On St. Croix, the PV arrays will generate nearly 20% of the island's peak demand.
An additional 4-MW solar project in St. Croix is projected to generate enough electricity to power more than 1,500 homes and create nearly 100 jobs during construction. These successful projects will provide a model for other islands to follow in developing their renewable energy resources.
More Information