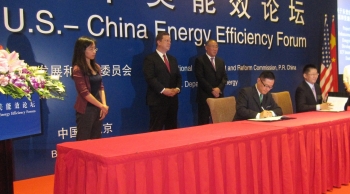 Assistant Secretary Dr. Dave Danielson and Vice Chairman Xie Zhenhua (right) of China's National Development and Reform Commission witness the MOU signing between the U.S.-China Energy Cooperation Program and the Chinese Society for Urban Studies.
Last month, I was in China with a delegation from the Office of Energy Efficiency and Renewable Energy (EERE), led by Assistant Secretary Dr. Dave Danielson.  We were in Beijing for the Fifth Annual U.S.-China Energy Efficiency Forum.
This was the fourth time I moderated this event, which brings together nearly two hundred leading experts from industry, government, and non-profit sectors who are working to reduce energy consumption in buildings and industry.
The annual forum is called for by the U.S-China Energy Efficiency Action Plan, which Presidents Obama and Hu announced in 2009 to promote energy efficiency in both countries.  The forum's objectives are to: (1) assess the progress of joint projects, (2) share insights on emerging policies to inform new initiatives, and (3) foster trade and investment opportunities.
The event consisted of a morning plenary session, a signing ceremony for formalizing new partnerships between U.S. and Chinese entities, and afternoon breakout sessions covering topics such as energy performance contracting, building codes, combined heat and power, and energy management systems for industrial facilities.
This year's event was a huge success.  Vice Chairman Xie Zhenhua, China's lead climate negotiator, and Assistant Secretary Danielson opened the event by emphasizing that both countries must lead global efforts to solve our shared energy, climate, and pollution challenges.  They each highlighted domestic efforts to this end.  The U.S. Deputy Chief of Mission in China, Daniel Kritenbrink, enthusiastically underscored the need and promise for such continued leadership on clean energy, noting that it is "the brightest area of U.S.-China collaboration."
A real highlight of the event was the formalization of new partnerships through the signing of Memoranda of Understanding (MOUs).  Such formal ceremonies are of great significance in China, helping to cement business relationships and promote market access.  Four new MOUs were signed by:
GE and the Shanghai International Tourism and Resorts Zone New Energy Company.  MOU covering a natural gas-fired combined heat and power station project for an upcoming resort and tourism destination in Shanghai.
ICF International and Dongying Economic and Technology Development Zone.  MOU covering technical support and training for energy and resource performance improvements.
U.S.-China Energy Cooperation Program and the Chinese Society for Urban Studies .  MOU to enhance market access for U.S. companies in six cities participating in the U.S.-China Eco-Cities program.
Lawrence Berkeley National Laboratory and the Tianjin Energy Management Professional Training School.  MOU covering training and information sharing in the field of energy efficiency, energy management and energy system optimization. 
In the afternoon, the audience split into interactive breakout sessions.  During the finance session, for example, officials announced a public-private partnership that aims to expand the use of energy performance contracting (EPC)—an innovative mechanism that pays for up-front efficiency retrofits with utility bill savings over time.  In 2013, the value of the Chinese and U.S. EPC markets was estimated at $12 billion and $7 billion respectively, yet there is still a vast amount of untapped potential.  The countries vary when it comes to policy incentives, financing structures, and retrofit strategies, but also face a number of common challenges.
The combined wisdom and resources of Chinese and U.S. practitioners can lead to faster deployment of leading technologies and best practices in their respective markets.  As a next step, an industry-led working group will be convened to generate U.S. and China-relevant tools for practitioners (such as cost calculators and standard contract language), policy recommendations for localities seeking to promote EPC, and high-profile pilot projects by joint U.S.-China teams that demonstrate the very best solutions.
Insights gained at the forum were complemented by in-depth site visits the day before.  The visits included a VIP tour of Beijing's cutting-edge clean energy expo, a full-access tour of the most advanced near-zero energy demonstration building in China, and a tour of a 510 megawatt, quadruple-generation power plant (electricity, hot water, steam, and heat) that is the most efficient in Beijing at 70%.
The power plant was especially interesting for demonstrating the type of win-win scenarios made available by partnering with China.  The plant's gas turbines were manufactured in the U.S. by Pratt and Whitney and are shipped back to the U.S. for complete overhaul after every 50,000 hours of use.  The turbines reflect one-third of the capital cost of the plant.  In this case, China's thirst for American-made, high-tech, clean energy components resulted in both manufacturing and service jobs in the United States.  China, of course, benefitted from manufacturing and service jobs associated with the balance of the plant, as well as reduced emissions, which China and the rest of the world desperately need.
Our time in China helped advance both the President's Climate Action Plan and National Export Initiative. We look forward to continuing our work to reduce emissions, promote global deployment of clean energy technologies, facilitate exports, and create jobs in America.
The Energy Department's Office of Energy Efficiency and Renewable Energy (EERE) International Program advances the progress of EERE's domestic programs and accelerates global deployment of U.S. clean energy products and services through international collaboration. For more information, please visit the EERE International website at www.eere.energy.gov/international