As college graduation season draws near, so too does EcoCAR 2, the Energy Department competition that challenges the next generation of engineers and scientists to reduce the environmental impact of a Chevrolet Malibu without compromising performance, safety and consumer acceptability.
For the past three years, student teams have put their skills to the test designing eco-friendly vehicle powertrains in a competition that culminates in a two-part finale in Milford, Michigan, and Washington, D.C. from June 1 to 12. Established by the Energy Department and General Motors, EcoCAR 2 builds on a successful 25-year history of the Energy Department supporting public/private Advanced Vehicle Technology Competitions (AVTCs) that have provided critical experience and training to the nation's future clean energy workforce.
We previously introduced you to five EcoCAR 2 teams from around the country. Today, we highlight five more of the 15 teams and their unique approaches to building innovative vehicles on the cutting edge of sustainable transportation.
Ohio State University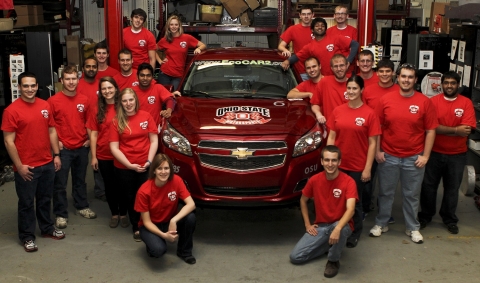 Ohio State's team includes graduate and undergraduate students — even a photography major! This team's plug-in hybrid electric vehicle (PHEV) runs on electricity and E85 (up to an 85% ethanol blend) with a six-speed automated manual transmission. This setup gives the car about 40 miles of all-electric driving with an additional 150 to 250 miles of driving using the internal combustion engine.                                                      
Pennsylvania State University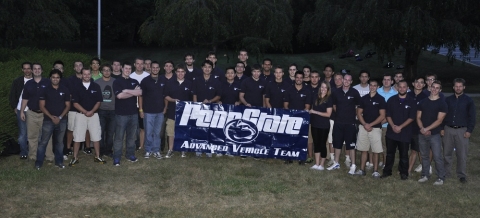 Penn State students have participated in AVTCs since 1988 and actually won EcoCAR 2's Year 2 competition. The EcoCAR 2 PSU student team has re-engineered their Malibu into a PHEV with front-wheel drive that is powered by a 90 kW electric drive motor. Its auxiliary combustion engine, fueled by E85, gives it even more range.
Purdue University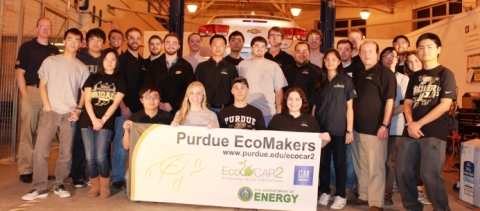 Sports fans will know Purdue as the Boilermakers, but the EcoCAR 2 team cleverly calls itself EcoMakers. The team's vehicle is a parallel-through-the-road (PTTR) PHEV that can be plugged into a standard wall outlet to charge. Its 45 kW (kilowatt) motor allows it to run in electric-only mode. If the battery runs out or the acceleration demand is higher than what the electric motor can provide, the 1.7 L diesel engine running on B20 (20% biodiesel blend) helps power the vehicle via the front drive train.
Rose-Hulman Institute of Technology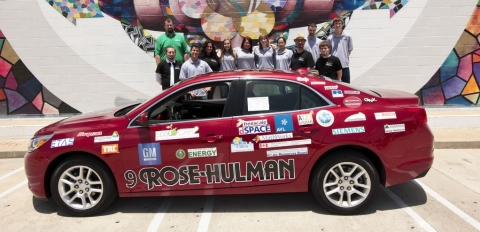 This team, from Terre Haute, Indiana, includes students from many backgrounds, including chemical engineering. Rose-Hulman's PHEV has an all-wheel drive component provided by a high-voltage electric traction motor. In this third year of the challenge, RHIT is working to accomplish five major technical goals, which include debugging wiring issues and refining the vehicle's control system.
University of Tennessee, Knoxville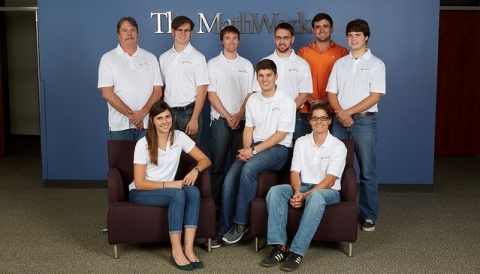 This Volunteer-designed PHEV uses E85 and will have a 34-mile all-electric  range, after which it can be operated as a hybrid. The car's series mode allows the engine to power the electric motor and operate extremely efficiently. In contrast, the parallel mode ties the engine directly to the front wheels, leaving the electric motor drivetrain to power the rear wheels. During times of peak power demand, the vehicle can switch between modes as needed.
Follow @EcoCar2 on Twitter for updates and check the EERE Blog for future coverage.