Anticipation is revving up for EcoCAR 2!  Starting tomorrow, 15 teams representing colleges and universities across North America will face off in the three-year competition's two-part finale in Milford, Michigan, and Washington, D.C.  EcoCAR 2 challenges future scientists and engineers to design and integrate vehicle powertrains that lower the environmental impact of a Chevrolet Malibu without compromising performance, safety and consumer acceptability. In addition, teams work with communications and business students to inform their fellow students and the general public about the benefits of advanced vehicles.
EcoCAR 2, established by the Energy Department and General Motors, is one of many public/private Advanced Vehicle Technology Competitions (AVTCs) supported by the Energy Department throughout the past 25 years. These competitions have provided critical experience and training to the nation's future clean energy workforce.
In this series' previous two posts, we introduced you to the first five EcoCAR 2 teams and then a second set of five more teams. Today, we highlight the final five of the 15 teams and their unique approaches.
University of Victoria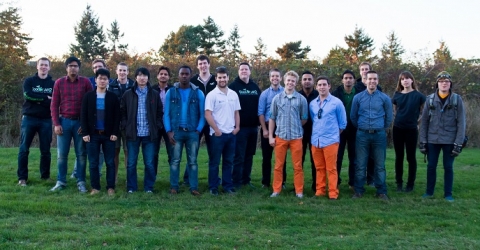 This Canadian team has truly integrated the EcoCAR 2 challenge into their curriculum, with the University offering classes on green vehicle design and other related coursework. The team worked to build a plug-in hybrid electric vehicle (PHEV) that provides a full spectrum of propulsion options for any driving situation.  The vehicle can operate in several different modes, depending on what is most efficient.  It can switch from driving in electric-only mode to acting as either a series hybrid (where the combustion engine powers the electric drive system that drives the wheels) or a parallel hybrid (where the engine and the electric drive system work together to power the wheels).
University of Washington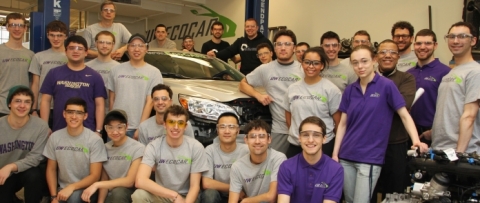 This 43-member team consists of undergraduate and graduate students from a variety of majors.  The team's vehicle has a parallel- through-the-road PHEV architecture, which they chose because they think it is the best combination possible of efficiency and feasibility. To meet the competition's challenges, the team has needed to be innovative, such as their decision to install the battery in the former spare tire well.  The UW team is especially proud of their work to their vehicle's center console interface as intuitive as possible for drivers. 
University of Waterloo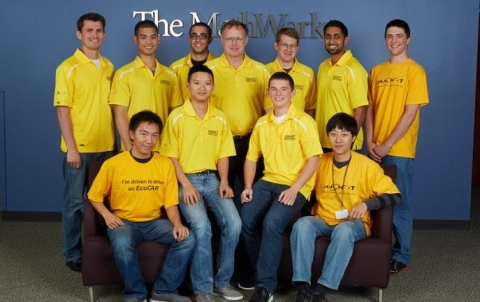 Ontario's own have come up with an series PHEV architecture that uses an 18.9 kWh (kilowatt-hour) battery and two motors to deliver more than 280 horsepower to the vehicle's wheels. When the battery runs down, the combustion engine runs on E85 (up to an 85% ethanol blend).  When the vehicle's all-electric range of 60 kilometers runs out, its combustion engine uses E85 to powers an electric generator to drive the wheels. The team based its specifications on real-world driving habits and consumer feedback to produce a prototype that they hope can help push green technology into the mainstream automotive market.
Virginia Tech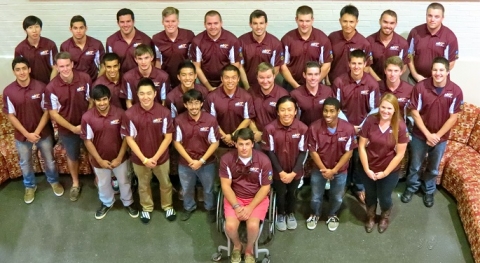 The Hybrid Electric Vehicle Team of Virginia Tech (HEVT) has two decades of experience in AVTCs. VT's prestigious mechanical engineering program has integrated advanced vehicle technologies into its curriculum, and EcoCAR 2 largely serves as a senior design project for mechanical engineering majors. Other students can receive independent study credit for their participation. HEVT designed and built a PHEV with a combustion engine and two electric motors that operate efficiently to maintain low petroleum consumption. When the vehicle's battery runs down, its flex fuel engine running on E85 extends the car's range well beyond its 45-mile all-electric range.
Wayne State University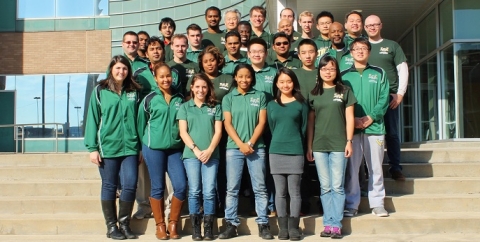 Straight out of Detroit, the Wayne State EcoCAR 2 team is representing the heart of the automotive industry. This team is also unique in that its membership comprises students from seven different countries. Wayne State is a first-time EcoCAR competitor, but the team isn't letting that stop it from having a showroom-ready car for the final competition. With its drivetrain that can be powered by either a combustion engine or electric motor, WSU's parallel-through-the-road PHEV gives its drivers plenty of operational flexibility, great performance and very good fuel economy with low emissions. The team nicknamed their car E2D2, for Ethanol Electric Dual Drivetrain.
Follow @EcoCar2 on Twitter for live updates from the two-day finale in Michigan and Washington, which is taking place from June 1 to 12. Also check EERE Blog and Facebook for future coverage.