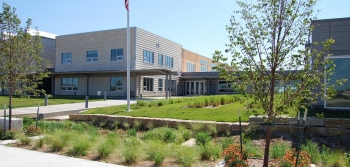 The new LEED Platinum K-12 school in Greensburg, Kansas. | Photo from Greensburg GreenTown, NREL 19952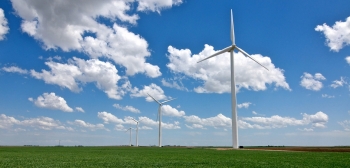 The Greensburg Wind Farm is comprised of 10 1.25-MW wind turbines, supplying a total of 12.5-MW of renewable wind power to the town. | Photo from Native Energy, Inc., NREL 17592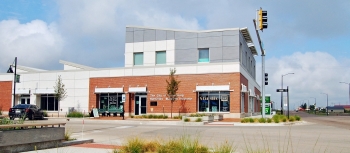 In the Business Incubator in Greensburg, energy efficiency strategies include daylighting, a well-insulated envelope, ground source heat pumps, and PV panels. | Photo by Joah Bussert, NREL 17573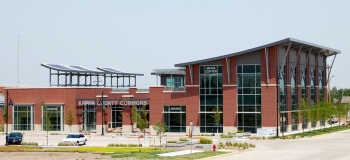 The new Kiowa County Commons building replaces the old Kiowa County Library and Historical Museum destroyed by the tornado. The LEED-Platinum designed building features 33 solar panels that will produce 4.6 kilowatts of power. | Photo by Joah Bussert, NREL 19448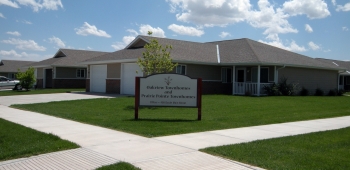 ENERGY STAR® appliances and low water use fixtures reduce the amount of energy used in individual units in the Prairie Pointe Townhomes. | Photo by Rachel Sullivan, NREL 17576
EERE Investment
$2.55 million
Location
Greensburg, Kansas
Partners
Federal Emergency Management Agency (FEMA)
National Renewable Energy Laboratory (NREL)
Berkebile Nelson Immenschuh McDowell
Project Details
On May 4, 2007, a tornado destroyed or damaged 95% of the town's homes and businesses. Greensburg turned disaster into opportunity and created a plan to rebuild as a sustainable community with the help of a diverse group of experts, including DOE and NREL.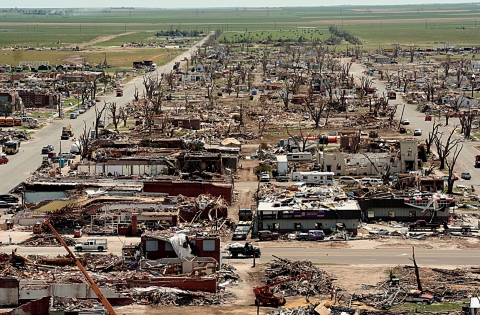 For 3 years, DOE/NREL experts worked with city leaders, business owners, residents, and other state, federal, and local agencies to identify ways to incorporate energy efficiency and renewable energy technologies into the town's rebuilding efforts.
Through energy modeling, education, training, and onsite assistance, DOE and NREL helped renovate and rebuild homes in Greensburg that on average, use 40% less energy than similar buildings built to code—surpassing the goal NREL originally set to achieve 30% energy savings in residential buildings.
This project included many LEED certified building "firsts" for the country and the state of Kansas, including:
City of Greensburg SunChips® Business Incubator—the first LEED Platinum municipal building in Kansas
Kiowa County Memorial Hospital—the first LEED Platinum critical access hospital in the United States
Prairie Pointe Townhomes—the first residential LEED Platinum building in Kansas.
During the first phase of planning, the Federal Emergency Management Agency (FEMA) led the development and completion of a long-term recovery plan in August 2007. The second planning phase, led by the community planning and architectural firm Berkebile Nelson Immenschuh McDowell (BNIM), resulted in a Sustainable Comprehensive Master Plan adopted by Greensburg City Council in May 2008.
DOE and NREL provided resource analysis, feasibility studies, and business plans to show Greensburg how it could meet its commitment to rely as much as possible on locally generated wind power. The Midwestern wind that ravaged Greensburg in 2007 is now being harnessed to help power this rural Kansas community. Kansas has the third-highest potential for wind energy of any state, making it an obvious choice for green-minded leaders.
With its blueprint for success, the City of Greensburg, John Deere Renewable Energy, and the Kansas Power Pool built a new 12.5-megawatt wind facility, the Greensburg Wind Farm, which generates enough electricity annually to power 4,000 homes. Financing was provided by the Rural Development agency at the U.S. Department of Agriculture.
More information
• A Tale of Two Cities: Greensburg Rebuilds as a National Model for Green Communities
• Rebuilding it Better: Greensburg, Kansas, High Performance Buildings Meeting Energy Savings Goals
• City of Greensburg website
• Greensburg GreenTown™, non-profit website that residents formed to provide resources and support as Greensburg rebuilds.