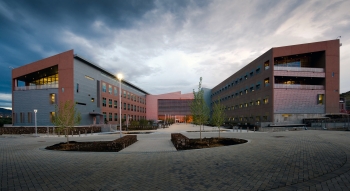 The Building Technologies Office's Emerging Technologies Program works to advance new commerical building technologies that are expected to reach the marketplace in five years or less. | Photo of National Renewable Energy Laboratory's Research Support Facility by Dennis Schroeder, National Renewable Energy Laboratory
Retrofitting buildings improves energy efficiency, saves money and provides a more welcoming workspace. As new and more affordable technologies enter the marketplace, building operators and tenants have more options for reducing their operating costs, energy use and water consumption.
Innovative building efficiency options are expanding due to the Building Technologies Office's Emerging Technologies Program. The program supports projects involving the highest potential in achieving cost-effective energy savings in both commercial and residential applications. By partnering with national laboratories, industry, and universities, the program is advancing research, development, and commercialization activities for projects expected to reach the marketplace in five years or less. In August 2013, the program awarded nearly $6 million for nine projects, covering such areas as building insulation and window, air conditioning and heat pump technologies. Four of these projects are profiled below:
Acoustic Technology for Measuring Air Infiltration
Air infiltration, sometimes called air leakage, is the involuntary introduction of outside air into a building, entering through doors or cracks in the building's envelope. Air infiltration accounts for more than 30% of the total heating load for commercial buildings in the U.S. It's extremely difficult to measure, as commercial buildings can be quite large, averaging about 14,000 square feet. While sealing minimizes air leaks, there is currently no technology to measure air infiltration in large commercial buildings or buildings under construction. As a result, commercial building energy codes do not require air infiltration measurements.
Argonne National Laboratory's Acoustic Building Infiltration Measurement System (ABIMS) offers a new breakthrough technique -- using method break-through technology for measuring air leaks with sound. ABIMS obtains rapid measurements of air leaks from isolated sections within a building, helping to identify infiltration. It works with very large buildings and those under construction. The system is expected to cost about the same as the current method for measuring air leaks in residential and small commercial buildings, which is the blower door test system.
Cleaner and Safer Heat Pumps
A heat pump is a single system that provides both heating and cooling functions. Small amounts of energy are distributed through its delivery system to provide heat, which can be reversed to provide cooling features, similar to an air conditioner. Generally, heat pumps are highly efficient, as they transfer heat rather than burn fuel like a furnace.
S-RAM Dynamics will develop a heat pump that uses air; a natural refrigerant in place of environmentally-damaging hydrofluorocarbons (HFCs). HFCs are commonly used in today's HVAC equipment, contributing to the production of greenhouse gas emissions. S-RAM Dynamic's heat pump has the potential to slash heating and cooling costs in half. It is also unique due to its ability to operate in extreme climates, ranging from the very cold (-30°F) to the very hot (210°F). The system will initially be manufactured as 20-ton units to be installed in low-rise commercial buildings or rooftops of commercial buildings.
Thermolift is also developing a heat pump that aims to make buildings greener and more energy efficient. They are working on a prototype that can provide heating, cooling, and hot water for residential and commercial buildings by using natural gas and heat energy from the surrounding air. It is also designed to help reduce peak electricity consumption during the summer. Similar to S-Ram Dynamic's heat pump, Thermolift's design does not use HFCs. The technology has been adapted from a previous design, initially built in the 1990s, and applies technology from advanced building controls. It automatically responds to environmental variables such as outdoor temperature and is set to improve efficiency in space heating by 200% and water heating and space cooling by 150%.
Energy Efficiency Through Window Films
The Energy Department's National Renewable Energy Laboratory (NREL) is developing an innovative window insulation technology that uses vacuum insulation materials. This combines low thermal emissivity (or low-e) coated plastic films to boost the energy efficiency of current window retrofit technologies by as much as 80% and at a fraction of the cost. This method creates vacuum insulation films using nano-to-micrometer-sized capsules that are invisible to the human eye. The capsules are strong enough to be integrated with standard window plastics and are applied like typical window tinting. Early estimates indicate that a millimeter thick layer results in clear insulation up to R-20, equal to standard wall insulations.
Considering there are billions of square feet of installed windows in the U.S., this research initiative provides a tremendous opportunity for lowering energy costs and greenhouse gas emissions in buildings throughout the country. This high-tech window technology has the potential for mass-market adoption since the benefits will resonate with architects and building occupants.  
These projects represent only a snapshot of the Energy Department's larger effort to invest in promising technologies that will help improve energy efficiency for residential and commercial buildings, while reducing the harmful impacts of greenhouse gas emissions. I invite you to explore the Emerging Technologies program's webpage to learn more about the work we are doing as part of the Building Technologies Office and also encourage you to sign up to receive our program updates.