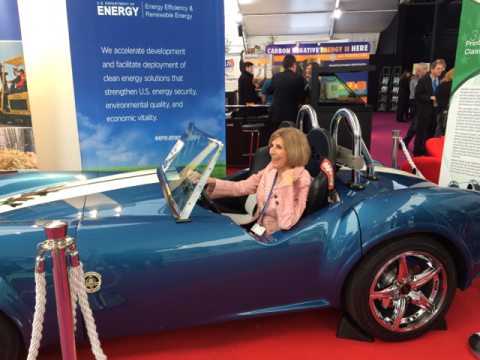 Above: Mayor Jeri Muoio of the City of West Palm Beach, Florida, gets behind the wheel of the 3-D printed Shelby Cobra at the COP 21 conference in Paris. Photo courtesy: U.S. Department of Energy.
The Office of Energy Efficiency and Renewable Energy (EERE) has many impactful partnerships at home and abroad to accelerate development and facilitate deployment of energy efficiency and renewable energy technologies and market-based solutions. One of EERE's domestic partners, the City of West Palm Beach, Florida, brought a little paradise and sunshine to COP (Conference of Parties) 21, sharing its vision for a sustainable community built on the potential of clean energy technologies.
EERE partners with public and private sector leaders to make homes, commercial buildings, and industrial plants more energy efficient through the Better Buildings Challenge. West Palm Beach Mayor Jeri Muoio is one of more than 250 leaders from diverse sectors who has stepped up to the Challenge, representing more than 3.5 billion square feet, 650 manufacturing plants, and $5.5 billion in financing investments.
Mayor Muoio's city recently adopted, "Rethink Paradise: West Palm Beach, Sustainability Action Plan," which targets greenhouse gas emission reductions, energy/water conservation, and community empowerment. West Palm Beach leaders successfully inspired local stakeholder engagement to drive efficiency action in the Sunshine State. To date, the city has achieved a 21% savings in energy efficiency across 26 buildings, accounting for approximately 1.3 million square feet.
West Palm Beach, along with other Better Buildings Challenge partners, is leading the way for others in achieving energy-saving solutions that are good for the global clean energy economy. Learn more about West Palm Beach's progress in the Better Buildings Solution Center.