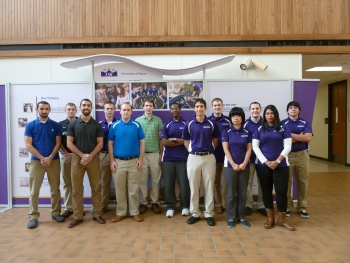 KANSAS STATE UNIVERSITY From left to right: Aaron Thomsen, Stuart Disberger, Bret Gross, Cody Yost, Joe Kuhn, Lane Yoder, Hussam Alghamdi, Will Duren, Martin Mixon, Ying Huang, Alex Wurtz, Tanzila Ahmed, Armando Marquez. Not pictured: Jordan Robl, Brandon Young, Shae Pelkowski. | Photo courtesy of Kansas State University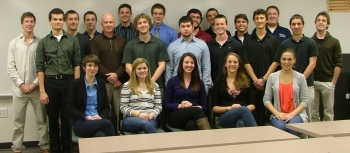 JAMES MADISON UNIVERSITY Back row: Kyle Kingsborough, Ryan Hoag, James Merrick, Kyle Byrd, Jackson Snarr, Corey Allison, Scott Beatty, Mick Blackwell, Blake Chapman, Nolan Morris. Middle row: Jonathan Romero, Philip Sturm, David Hryvniak, William Romov, Jonathan Nichols, Michael Daddio, Erwin James Will. Front row: Jesse Mlcoch, Natasha Babiarz, Ashleigh Cotting, Ashlynn Buttram, Genevieve D'Antonio. | Photo courtesy of James Madison University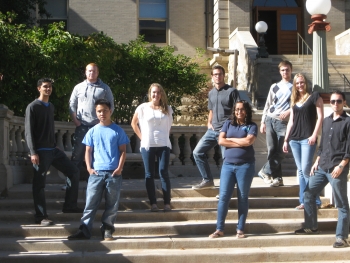 COLORADO SCHOOL OF MINES Back row: Alex Dell, Zachary Weber, Aaron Troyer, Cabe Bonner, Jeremy Webb. Front row: Katherine Rooney, Jyotsana Gandhi, Kevin Tan, Kelsey Wokasch. | Photo courtesy of Colorado School of Mines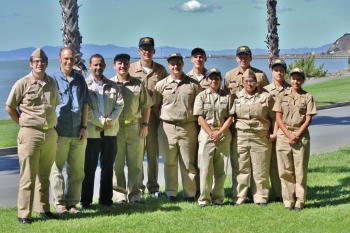 CALIFORNIA MARITIME ACADEMY From left to right: Ramiro Parocua, Tom Nordenholz, Khalid Bachkar, Alexander Calder, Glenn Fuller, Gerald Spencer, Eric Johnson, Sasha Barnett, Henry Seel, Jennifer Ramos Ortiz, Ian Medina, Grace Paranjape. | Photo courtesy of California Maritime Academy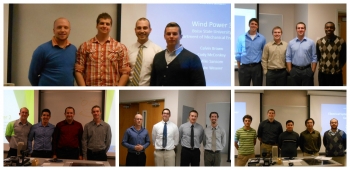 BOISE STATE UNIVERSITY Top left: Mike Sansorm, Calvin Brown, Cody McConkey, Luke Weaver. Top right: Cameron Allen, Scott Roskens, Mitchell Petronek, Davis Gumbo. Bottom Left: Jerad Deitrick, Brandon Lee, Nael Naser, Luke Ganschow. Bottom middle: Grant Stephens, Michael Shoaee, Brian Cardwell, Rory O'Leary. Bottom right: Brian Dambi, Stephan Stuats, Adrian Reyes, Haitian Xu, Firaj Almasyabi. | Photo courtesy of Boise State University
Next week, 10 student teams representing colleges and universities across the country will compete in the Energy Department's first-ever Collegiate Wind Competition, which is designed to prepare talented young people for careers in the wind energy industry and enable academic institutions to showcase the ingenuity of their students.  As part of the inaugural competition, teams will:
Build and test a wind turbine
Present on wind energy topics
Deliver a cohesive business plan
Each team consists of undergraduate students from multiple disciplines and includes either a faculty or staff member to serve as an advisor and principle investigator for the project, supporting development of the team's concept. The 10 teams were competitively selected last spring. 
Last week, we highlighted five of the teams and some of their innovative designs and ideas for advancing wind energy technologies. Today, we profile the remaining teams.
KANSAS STATE UNIVERSITY
The Kansas State University team's turbine design features a vertical axis and blades made using a 3D printer.  By using a vertical axis design, the team is balancing efficiency and marketability to create a product that satisfies a specific market need.
JAMES MADISON UNIVERSITY
The James Madison University team's design features a five-bladed system and an external electrical box with an easy-to-use interface. The team's small wind turbine aims to provide power for charging electronic devices in energy-impoverished communities where handheld devices serve as the principal means of remote communication. Their goal is to create a turbine that is inexpensive and easy to manufacture and repair.
Colorado school of mines
Team Zephyrus from the Colorado School of Mines aims to make wind energy more appealing to the general public. Their design incorporates ease of use, safety, and consumer appeal – making the turbine an effective, portable device for generating power on the go. The turbine can charge small electronic devices with a five-volt USB port, comes in multiple colors, and is quick and easy to assemble.  
California maritime academy
The turbine from CMAWind of California Maritime Academy features a rugged, durable, and modular design. The team's small wind turbine aims to provide power for cell phones and LED light bulbs in rural areas of Africa.
Boise State University
The Boise State University is designing and constructing a small-scale wind turbine that can perform according to the team's customized market-data-derived business plan. The horizontal axis wind turbine design features parts that are easy to assemble, store, and repair.
Check EERE Blog  and Facebook next week for more coverage of the Collegiate Wind Competition, join the conversation on social media using #windcompetition, and go to wind.energy.gov/windcompetition for more information.